Interaction with Society
Goals and Actual Results in Social Interaction
Fiscal 2017
Fiscal 2018 goals
Goal
Actual results
Evaluation and challenges
[Science]
"Sending School Backpacks Across the Sea" campaign was steadily undertaken

Delivered 6,857 backpacks
Advertise to collect school backpacks through the Kuraray website and nearby elementary schools of Kuraray plants

The campaign was carried out as planned. This campaign will be hosted next fiscal year also.

"Sending School Backpacks Across the Sea" campaign will be steadily undertaken

[Science]
"Chemistry Classes for Boys and Girls" was hosted at the five plants and head office of Kuraray more than once this year

Hosted 13 times in total with 299 participants (three times at Kurashiki Plant, three times at Saijo Plant, twice at Okayama Plant, twice at Niigata Plant and three times at Kashima Plant) Additionally, Kashima Plant participated in the Kamisu Festa.

The event was carried out as planned.

To sponsor events more than once per year at each plant
To sponsor events outside the Company

[Social Welfare]
Operating workshops for people with intellectual disabilities

Number of people employed/Intellectually and physically disabled: 37 people, Instructors: 12 people (The results represents the total for Niigata, Saijo, Kurashiki and Kashima.)

The targeted number of people were hired as planned.

To continuously employ the same number of people at the workshops
To start operation at Okayama Plant

[Culture] [Science] [Environment] [Social Welfare]

To steadfastly undertake existing activities at plants, sites and affiliated companies focusing on the relationship with local communities
To comprehensively grasp the status of activities undertaken by the entire Group including overseas operations

On-going activities were steadfastly undertaken

Activities that have been undertaken in the past could be steadfastly continuously conducted.
The status of activities undertaken by the overseas operations was comprehensively grasped.

To continuously carry out the activities
To continuously grasp the status of activities undertaken by the entire Group including overseas operations
We in the Kuraray Group consider the sound and sustainable advancement of society to be a precondition for corporate growth and prosperity, as well as the ultimate objective of corporate activities. It goes without saying that we see it as our duty to contribute to society through provision of products with genuine value to the people. Beyond this, we consider assistance with the resolution of social issues within an appropriate scope to be another important form of social contribution in our capacity as a corporate citizen.
In fiscal 2017, the Kuraray Group carried out activities focusing on culture, science, environment and social welfare in accordance with its policy for social contribution activities.
Goals and Actual Results in Social Interaction
Kuraray Group Policy for Social Contribution Activities
To fulfill its responsibilities as a member of society, the Kuraray Group shall make vigorous approaches to social contribution activities in accordance with the following policy.
Types of Activities
Activities that lead to a resolution of social issues
Activities rooted in local communities where Kuraray's establishments are based
Activities emphasizing participation by employees on their own initiative
Activities that are sustainable in the long term
Areas of Activities:Priority areas: culture, science, environment, and social welfare
Culture
The Kuraray Group continues supporting the Ohara Museum of Art, which was established by Magosaburo Ohara, the first president of the company. The Group also supports cultural activities at its plants and sites.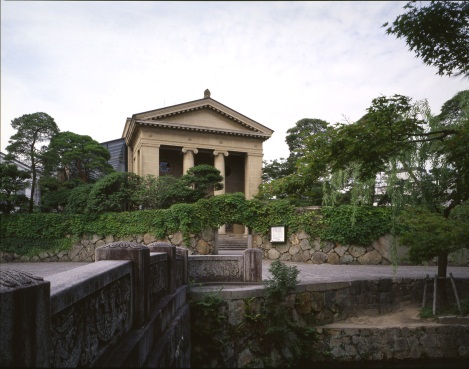 The Ohara Museum of Art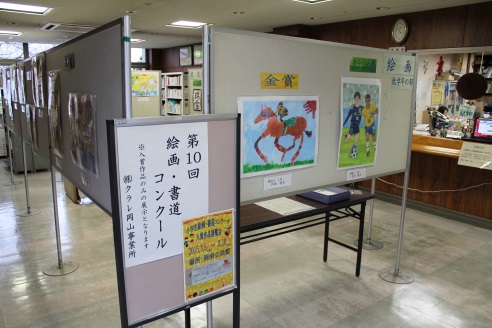 Contest on Painting and Calligraphy at Okayama Plant
Okayama Plant has been holding the Elementary School Student Painting and Calligraphy Contest annually since 2005. Having become a fixture in the local community thanks to its ongoing successes, this contest received 200 artwork entries from five elementary schools in fiscal 2017. This contest will be continuously sponsored.
Science
In fiscal 2017, the Kuraray plants sponsored the "Chemistry Classes for Boys and Girls", participated in outside events and sponsored sports tournaments to foster healthy juniors and teenagers by continuously supporting on-going activities.
Kuraray conducts the "Chemistry Classes for Boys and Girls" program with the goal of enabling elementary school students to experience the fun of chemistry through experimental work. In this program, employee volunteers of Kuraray serve as lecturers and assistants in dedicated classrooms in Kuraray plant premises, as well as in elementary schools and public facilities in the areas. This program has been sponsored every year since 1992 at Kuraray plants in Japan. In fiscal 2017, 299 children and family members participated in thirteen class events. Kashima Plant participated in the Kamisu Festa held in Kamisu City. Kuraray's booths were visited by 60 people. We will continue these events and actively participate in events outside the Company.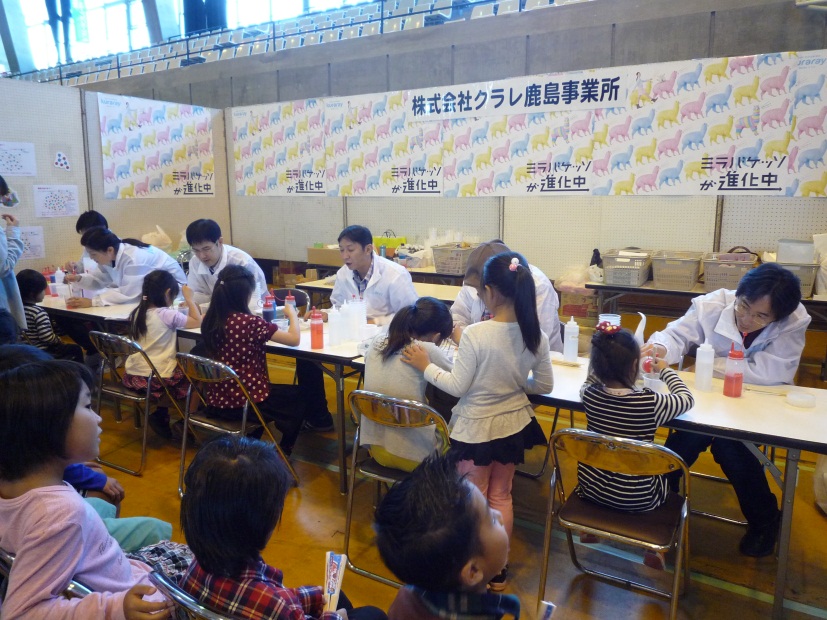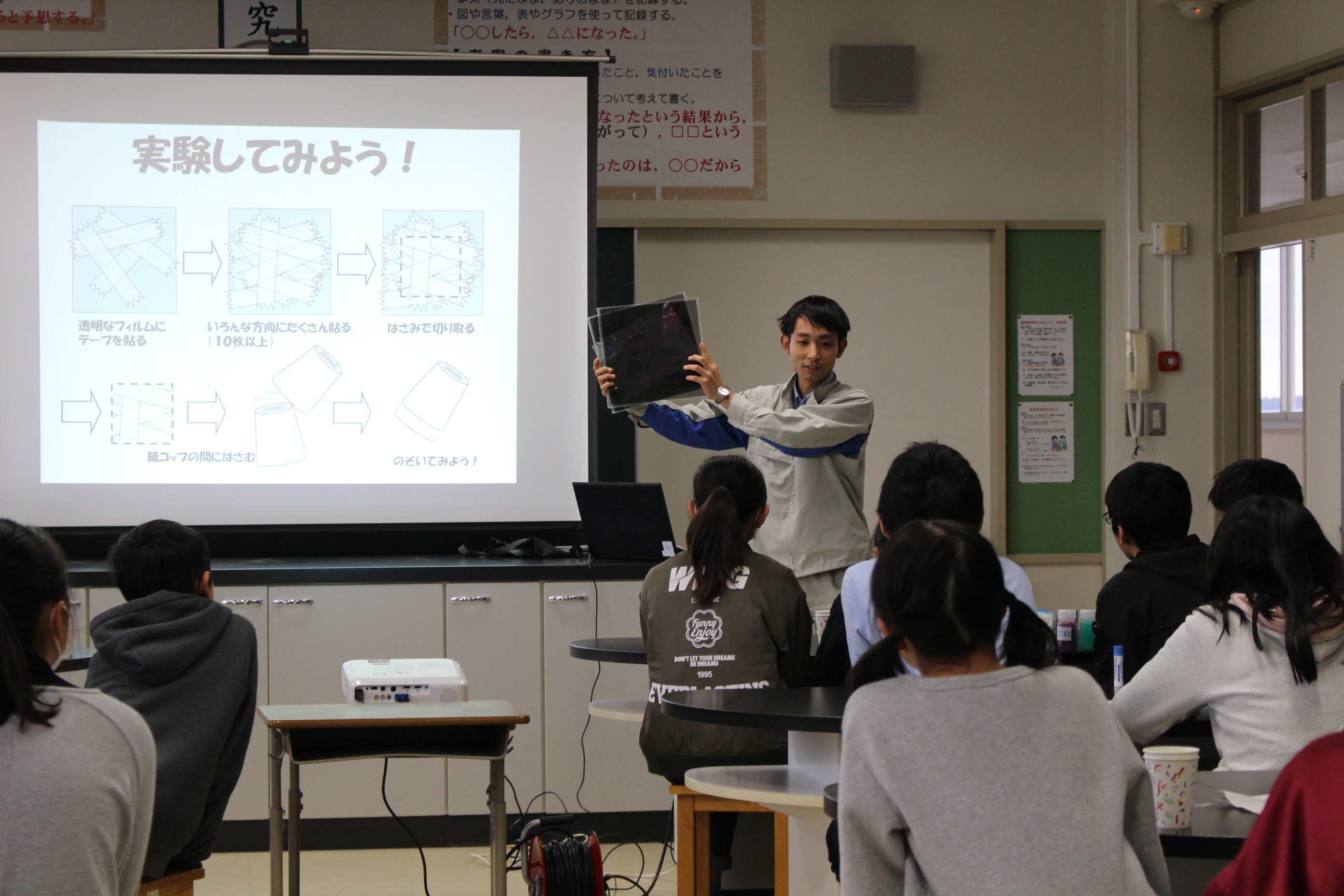 The Kamisu Festival (Kashima Plant)
| | | | |
| --- | --- | --- | --- |
| Plant | Class name | Number of classes | Number of participants |
| Kurashiki Plant | Fun Chemistry House | 72 | 1,889 |
| Saijo Plant | Exciting Chemistry Class | 73 | 2,159 |
| Okayama Plant | Fun Chemistry Class | 45 | 1,394 |
| Niigata Plant | Wondrous Laboratory | 57 | 1,598 |
| Kashima Plant | Fun Chemistry Class | 24 | 1,390 |
| Total |   | 271 | 8,430 |
Various plants of Kuraray are sponsoring sports events from the standpoint of fostering healthy juniors and teenagers. In fiscal 2017, various sports and other events were hosted at the plants of Kuraray, including a tennis tournament for children at the Okayama Plant that was started in fiscal 2015. Kuraray is offering its baseball parks, gymnasiums and tennis courts to students of nearby schools for the promotion of sports in neighboring areas. These activities will be continued in the future.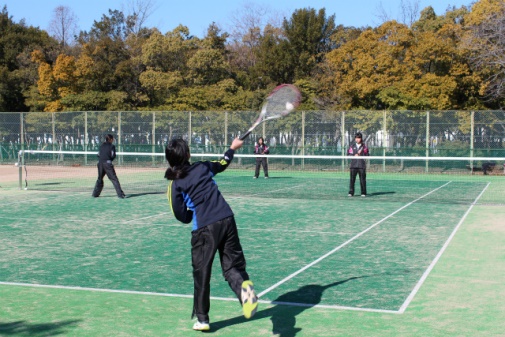 Children's Tennis Tournament at the Okayama Plant
Environment
Aiming at implementing forest conservation work and volunteer cleaning work carried out every year, in fiscal 2017, the Okayama Plant undertook "Kuraray Mirai no Mori (Kuraray Forest of Future) Activity," and the Niigata Plant undertook the "MIRABAKESSO Forest Creating Activity." All the plants undertook volunteer cleaning work. The Group companies a also periodically undertake voluntary environmental work such as cleaning of areas around their plants.
At each Kuraray plant, employee volunteers engage in forest conservation activities, cleaning parks, roads and mowing gardens in childcare centers in cooperation with local governments and NPOs.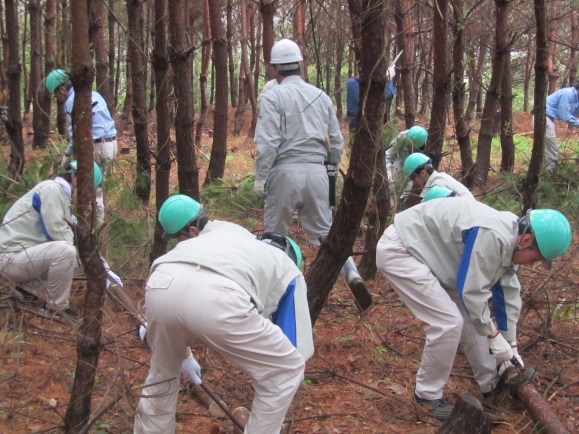 Work scene in Kuraray Mirai no Mori (Kuraray Forest for the Future), Okayama Prefecture
Social Welfare
Aiming to support and continue the employment of people with intellectual disabilities and to undertake the Kuraray Fureai (Rapport) Fund-Raising Campaign, Kuraray's Kurashiki, Saijo, Niigata and Kashima Plants operated workshops and donated money raised in the campaign. Also, cherry blossom viewing parties were held at the Saijo and Niigata Plants tuned to the cherry blossoming season. Residents of nearby social welfare facilities visited the plants and enjoyed viewing cherry blossoms. These activities will be continued.
In cooperation with Nakajo Town (currently Tainai City) and Niji no Ie (meaning ""Rainbow House"", operated by a social welfare corporation, Nanaho-kai) , the Kuraray Workshop of Kuraray's Niigata Plant opened in 1997 for people with intellectual disabilities. The workshop sorts plastic waste generated in the production process for recycling and manufactures supplies and fittings. In 2007, the Himawari Sunflower Workshop opened at Kuraray's Saijo Plant. In 2011, the Kashima Plant opened its Aozora Blue Sky Works assisted by a social welfare corporation, Kamisu Keiai-en. 12 instructors and 37 workers now work at four of Kuraray' s plants to accomplish a variety of job assignments, including those employees at Kuraray's Kurashiki Plant engaged in cleaning of uniforms and labeling on Kuraray products. They mingle with Kuraray's employees through sports events and other occasions. These workshops and employment of those with intellectual disabilities will be maintained and continued.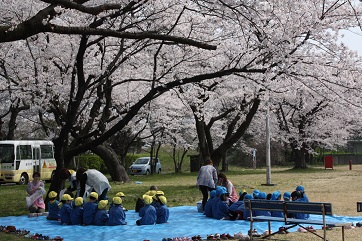 Cherry blossom viewing party held at the Niigata Plant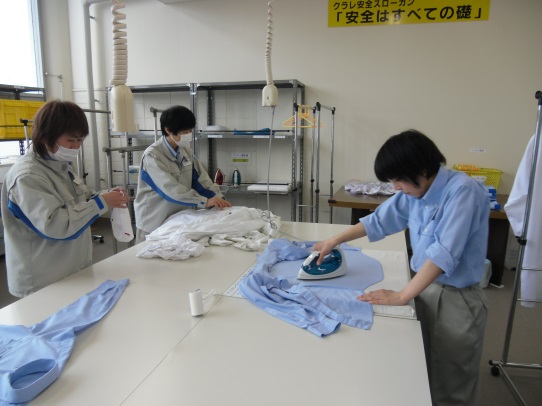 Kurashiki Workshop
| | |
| --- | --- |
|   | Types of work |
| Kurashiki | Cleaning uniforms, labeling products |
| Saijo | Product recycling, cleaning uniforms |
| Niigata | Product recycling, manufacture of pot stands and aprons, cleaning uniforms |
| Kashima | Making double-layer product packing bags, separating foreign matter in products |
We established a matching gift or the "Kuraray Fureai Fund" in July 1992. Under this fund, companies make donations consisting of those made by their employees and the same amount by the company. Employees endorsing the fund agree to donate amounts of less than 100 yen from their salaries to it. The funds collected in this way are used for social welfare programs.
In fiscal 2017, activities were undertaken contributing to local communities such as donating nursing care supplies, books and other articles mainly to welfare facilities, local governments and schools in the neighborhoods of Kuraray plants. The fund will be continuously used for the sake of social welfare.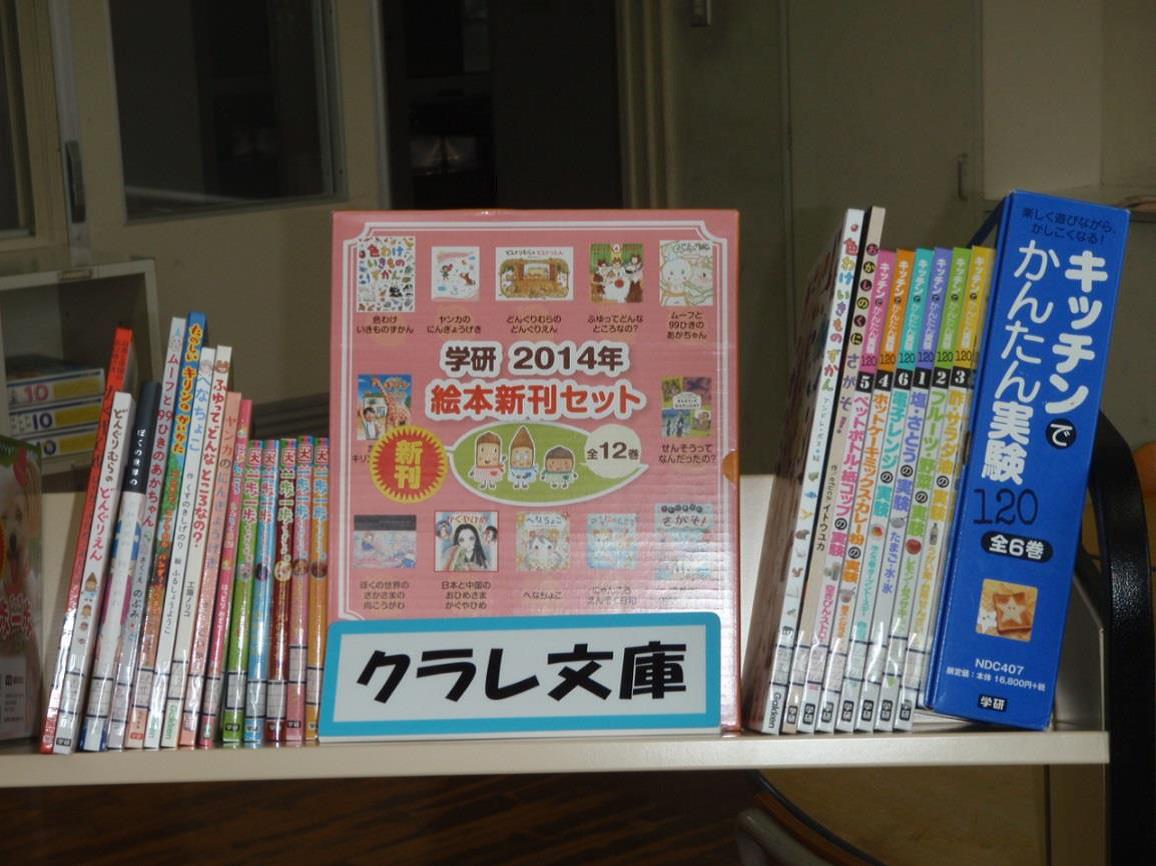 Kuraray Library financed by Kuraray Fureai Fund (Saijo Plant)
Focus on the "Sending School Backpacks Across the Sea" Campaign
"Sending School Backpacks Across the Sea" is an international contribution activity in which school backpacks used in elementary schools in Japan are sent to children in Afghanistan and other areas, who are deprived of education opportunities by war. The backpacks are donated every year together filled with stationery and letters. Up to now, these backpacks have been sent to Afghanistan, Mongolia, Nepal and Cambodia.
On the 14th anniversary of the campaign that was launched in 2004, 6,857 school backpacks were donated in fiscal 2017 from various parts of Japan. In cooperation with JOICFP, a public interest incorporated foundation, the school backpacks were sorted and packed by volunteer groups and the employees of Kuraray Group. From October to December the school backpacks were sent with school supplies to 46 elementary schools in Nangarhar Province, Afghanistan. Many volunteers cooperated in shipping them via oceans. So far, a total of 119,979 school backpacks have been sent as presents. Kuraray wishes to expand this contribution activity to other countries in the future.

| | | | |
| --- | --- | --- | --- |
| FY | Number of backpacks | FY | Number of backpacks |
| 2004 | 8,514 | 2011 | 11,144 |
| 2005 | 12,076 | 2012 | 8,326 |
| 2006 | 5,504 | 2013 | 6,396 |
| 2007 | 6,894 | 2014 | 7,908 |
| 2008 | 7,022 | 2015 | 7,111 |
| 2009 | 7,522 | 2016 | 7,732 |
| 2010 | 8,973 | 2017 | 6,857 |
| | | Cumulative total | 111,979 |