Kuraray Co., Ltd. (Head Office: Chiyoda-ku, Tokyo; President: Masaaki Ito; hereinafter "Kuraray") hereby announces that it has published the Kuraray Report 2018 (A4 size, 50 pages, full color).
Until 2017, Kuraray disclosed financial and non-financial information via separately issued annual and CSR reports. However, from 2018 the Company will publish integrated reports, thereby securing a more robust communication tool better suited to keeping stakeholders informed of the Kuraray Group's various new value creation initiatives executed over the medium to long term.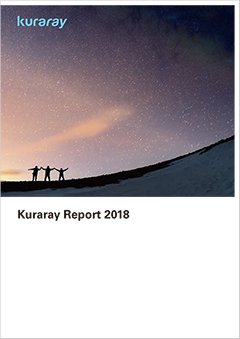 Front cover of the Kuraray Report 2018
Overview of the Kuraray Report 2018
The first edition of Kuraray's integrated report, the Kuraray Report 2018, features its initiatives to become a "Specialty Chemical Company growing sustainably by incorporating new foundational platforms into its own technologies"—the ideal described in "Kuraray Vision 2026", which sets out the Company's aspirations from a long-term perspective.
Also included in the report are sections focused on the foundations Kuraray has established to support new value creation in connection with environmental, social and governance issues.
To read the PDF version of this report, please click on one of the following links:
Kuraray Report 2018
http://www.kuraray.com/uploads/5c3dab1e11fd0/kr2018_en.pdf
Kuraray Report 2018 Financial Section for the year ended December 31, 2017
http://www.kuraray.com/uploads/5c3dab1e2576a/kr2018_en-02.pdf
CSR Section of Kuraray's Corporate Website
In conjunction with the issuance of the Kuraray Report 2018, the communications channels the Kuraray Group uses to publicize details of CSR-related initiatives were consolidated at the Kuraray corporate website, and the CSR section of the website was renovated. The new layout features a "Top Statement," a "CSR Management" section, a "Safety Report," and an "Environmental Report" as well as coverage of other key topics with eye-catching icons accompanying the headlines to attract reader attention. Moreover, thanks to the adoption of responsive web design these pages can be easily navigated using a smartphone or tablet.
Please click on one of the following links to visit the CSR section of Kuraray's corporate website: