Kuraray Co., Ltd. (Head Office: Chiyoda-ku, Tokyo; President: Hitoshi Kawahara; hereinafter "Kuraray" or the "Company") received a letter of appreciation from the Japan Association for the World Food Programme (JAWFP) for its donation activities through shareholder benefit program regarding school food support for children struggling with hunger and poverty.
As a part of its shareholder benefit program, Kuraray sends out an original catalog gift to eligible shareholders once per year, and products using Kuraray's materials are on that catalog. As one of the gifts, there is a "social contribution gift", donation to "The United Nation's World Food Programme" course, and many shareholders have expressed their support.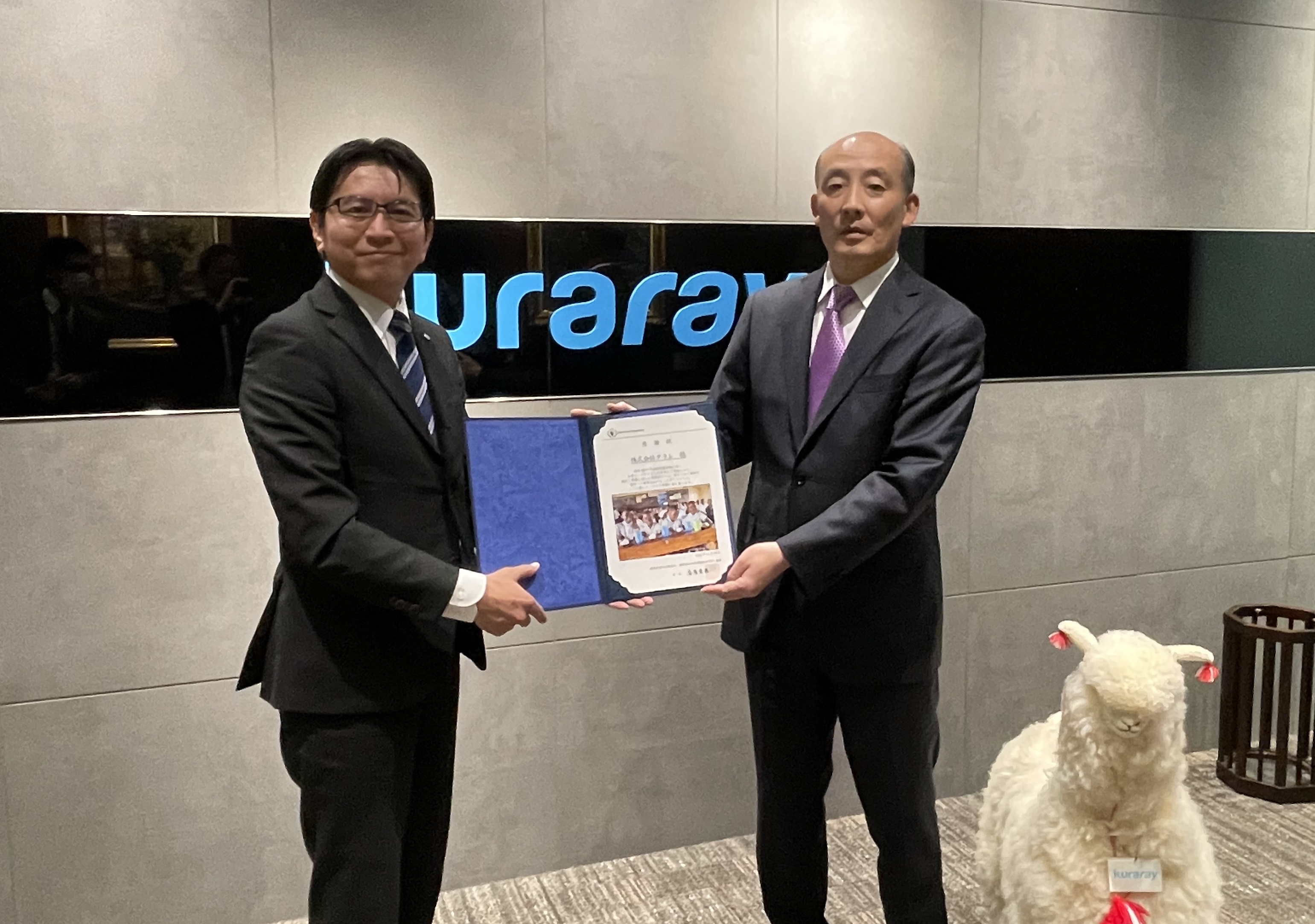 Left: So Aoki, Executive Director, JAWFP
Right: Hitoshi Kawahara, President and Representative Director, Kuraray
The United Nation's World Food Programme
The World Food Programme is the UN's food-assistance branch, which works to achieve a world without hunger. The WFP provides food assistance during times of crisis, such as conflicts and natural disasters, and collaborates with local communities in developing countries to improve nutritional conditions and create resilient societies.
The WFP has had success in combating hunger and helped improve peace in regions affected by conflict. Its activities act as a driving force in preventing the use of hunger as a weapon of war and conflict, and the WFP received the Nobel Peace Prize in 2020. In the same year, the WFP supported 115.5 million people in 84 countries.
Kuraray's Social Contribution Activities
In line with its policy on social contribution activities, the Kuraray Group conducts activities in the key fields of culture, academics, the environment, and welfare. Our activities span a wide range. We have continuously provided support to the OHARA Museum of Art, which was founded by Kuraray's first president Magosaburo Ohara. We also support the Sending School Backpacks Across the Sea project, which provides the children of Afghanistan with used school bags, and the Chemistry Classes for Boys and Girls, which allow children to find out how much fun chemistry is through hands-on experiments.