Kuraray Co., Ltd. (Headquarters: Chiyoda-ku, Tokyo; President: Fumio Ito; "Kuraray") held a ceremony at the Niigata Plant in Tainai City, Niigata Prefecture, on November 9, 2011 to mark the completion of a new KURARITY production facility. The facility is capable of mass producing 5,000 tons of this acrylic thermoplastic elastomer annually.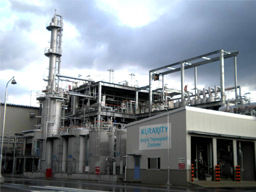 Kuraray was the first company in the world to successfully achieve commercial production of KURARITY, which features superior transparency, softness and adhesiveness. Owing to these and other qualities, KURARITY is used and expected to expand in the optical and molding material fields. Following the construction of a pilot plant at the Kashima Plant in 2004 and in light of the progress it has made in terms of market development and manufacturing technologies, Kuraray decided to establish mass-production facilities at the Niigata Plant in 2010.
Kuraray is accelerating the market development of KURARITY, and this development is being spearheaded in line with one of the key management issues (i.e., promoting the creation and expansion of new businesses) under the current medium-term action plan "GS-Twins."
Overview of the
KURARITY

Production Facilities
| | |
| --- | --- |
| Address | Kuraray Co., Ltd., Niigata Plant, 2-28, Kurashiki-cho, Tainai City, Niigata Prefecture, Japan (Osamu Yamada, General Manager and Executive Officer) |
| Production capacity | 5,000 tons per year |
| Capital investment | Approx. ¥5 billion |
KURARITY acrylic thermoplastic elastomer is a block copolymer composed of methyl methacrylate (MMA) and butyl acrylate (BA). As a thermoplastic elastomer possessing MMA's transparency and weather resistance as well as BA's elasticity and adhesive qualities, KURARITY is a unique material that Kuraray became the first company in the world to produce commercially through the use of its proprietary technologies.