Kuraray Plastics Co., Ltd. (headquarters: Osaka, president: Katsuhiko Kishi) has developed a high-concentration disinfectant plastic hose for use in chicken coops.
Kuraray Plastics has sold a white-lined, fiber reinforced spray pump hose for disinfection and spreading agricultural chemicals. Against growing concerns over bird influenza in recent years, more poultry farms are using more potent disinfectants as a means to prevent an outbreak of bird influenza. Poultry farmers and related parties have asked for the development of a hose more resistant to chemicals, leading Kuraray Plastics to develop the fiber-reinforced plastic hose.
The hose for chicken coop disinfection is reinforced with four layers, arranged in order from inside to outside: nylon resins, polyurethane resins, polyester reinforced fibers, and another layer of polyurethane resins. Compared with previous polyvinyl chloride-based fiber-reinforced spray pump hoses, this lighter-weight fiber-reinforced plastic hose is easier to use as it is less prone to hardening during the winter, as it excels in pressure resistance, chemical resistance and flexibility. The exterior of the fiber-reinforced plastic hose also excels in resistance to abrasion, damage and oils for sturdy long-lasting use.
High-Concentration Disinfectant Hose for Chicken Coop Disinfection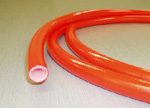 High-concentration Disinfectant Hose
1.

FEATURES:
(1)

Four-layer construction, arranged in order from inside to outside: nylon resins, polyurethane resins, polyester reinforced fibers, and another layer of polyurethane resins, for excellent chemical resistance

(2)

Exterior excels in resistance to abrasion, damage and oils for sturdy long-lasting use

(3)

Lighter weight and more flexibility than conventional polyvinyl chloride hoses

(4)

Easier to use and less likely to harden during winter than conventional polyvinyl chloride hoses

(5)

Allowable pressure of 5MPa (50K) allows for use under high pressures in high-pressure spray pumps and high-pressure washing machines
2.

SPECIFICATIONS:

Inner diameter of 13mm, outer diameter of 20mm, one fiber-reinforced layer, allowable pressure of 5MPa, cut length of 50m and 100m, with ISO screws
OUTLINE OF KURARAY PLASTICS Co.,Ltd
Headquarters
Shin-Hankyu Building 9F, 1-12-39 Umeda, Kita-ku, Osaka, JAPAN
President
Katsuhiko Kishi
Paid-in capital
¥180 million
Employees
200
Business
Manufacturing, processing and sale of rubber and plastic hoses, other molded products, conduit tubes, laminated products,

SEPTON

compounds and other molds