Kuraray Kuraflex Co., Ltd. (Head office: Osaka Kita-ku, President: Atsumi Adachi; hereinafter "Kuraray Kuraflex") got the certification which is well known for confirming quality control systems, hygiene and food safety from HACCP(*1) International Pty Ltd. (Head office: Australia) for the kitchen wipes(*2) .
Kuraray Kuraflex is the first Japanese company to receive certification for these type of products. Kuraray Kuraflex will keep contributing to the food industry with the kitchen wipes for the safety and the hygiene of foods.
*1 HACCP is the shortened word meaning Hazard Analysis and Critical Control Point
*2 For the limited kitchen wipe products
1.

The certification of HACCP for the Kitchen wipes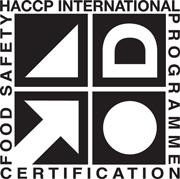 Certification logo from HACCP International Pty Ltd.
HACCP is a quality control system.
It manages the food safety risks and quality by risk analysis of risks and control to foresee and prevent the troubles (e.g. contamination) in all process from the material of the food to its production and the delivery by the regular observation and recording, the producers reduce the defective products.
Kuraray Kuraflex got the certification from HACCP International. They evaluated the material, the design and the production site of Kuraray Kuraflex's kitchen wipes.
They have an evaluation system for the equipment and materials used by the food producers to improve the safety of the food products they process.
Kuraray Kuraflex puts the certification Logo on the certified products in the series.
2.

Introduction of the kitchen wipes of Kuraray Kuraflex Co., Ltd.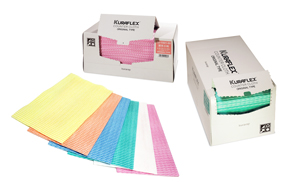 Kitchen wipes of Kuraray Kuraflex Co., Ltd.
Easy cleaning and quick drying to prevent the multiplication of the bacteria is the good feature of Kuraray Kuraflex's kitchen wipes.
Kuraray Kulaflex started the kitchen wipe business from Oct. 1972 and widely used in the food industry market like Supermarkets, Restaurants, Cafes and Food Processors.
End
Reference
Company Outline
| | |
| --- | --- |
| Name | Kuraray Kuraflex Co., Ltd. |
| Headquarters | Umeda Hankyu Building Office Tower 8-1 Kakuda-cho, Kita-ku, Osaka 530-8611, Japan |
| Representative | President Atsumi Adachi |
| Established | April 1, 2005 (first established as Kuraray Chicopee Co., Ltd. in 1971) |
| Capital | ¥100 million (wholly owned by Kuraray Co., Ltd.) |
| Principal businesses | Production, processing and sales of nonwoven fabrics and nonwoven fabric products |