Kuraray Co., Ltd. (Headquarters: Chiyoda-ku, Tokyo; President: Masaaki Ito) will exhibit at ProPak Asia 2017, being held from June 14 at the Bangkok International Trade Exhibition Centre (BITEC) in Bangkok, Thailand. Kuraray's barrier plastics, used mainly as packaging solutions, will be on display under the theme "Kuraray's barrier plastics save food." They include EVAL, a high barrier copolymer, and KURARISTER, a transparent high barrier film.
EVAL

Resins

A functional resin with excellent barrier properties against the permeation of gasses—the highest level among existing plastics. The resin has a wide range of applications including food packaging materials, cosmetics, pharmaceutical containers and automotive gas tanks. EVAL resin extends the shelf life of fresh food as well as trims package weight.
EVAL

Film

A monolayer barrier film composed of EVAL resins. In addition to outstanding barrier properties against the permeation of gasses, EVAL film is thermoformable, has heat-seal properties and can be used for anti-scalping and aroma preservation. Applications include barrier lamination of fresh food trays and prepared food containers, and barrier sealant for pharmaceutical packaging and aroma preservation.
KURARISTER
A transparent high gas barrier retortable film that provides a barrier against both oxygen and water vapor. Applications include retort food pouches and pharmaceutical product packaging as an alternative to laminated structures containing aluminum foil.
PLANTIC film
A bio-based high barrier film primarily composed of a special source starch. PLANTIC offers enhanced oxygen impermeability and is used as packaging materials for fresh foods, such as meat and fish. Improved food freshness means reduced food loss and waste. PLANTIC contributes to both the food industry and environmental conservation.
2.

Overview of the Trade Show and Exhibit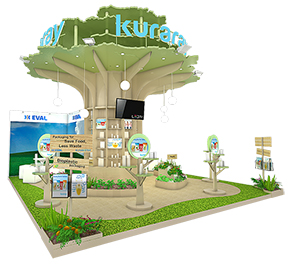 Artist's rendition of the Kuraray booth
Name
ProPak Asia 2017
Dates
June 14 (Wed.) to 17 (Sat.)
Location
Bangkok International Trade
Exhibition Centre (BITEC)
Bangkok, Thailand
Booth number
CD19, Hall 105