MonoSol, a Kuraray Company, the world leader in manufacturing water soluble films, announces that it has been recognized by Procter & Gamble as its 2012 Connect+Develop Partner of the Year for accelerating innovation breakthroughs that drive business results. As the only supplier to receive this top honor, it reflects intense collaboration between the two companies. P&G partnered with MonoSol to develop Tide Pods, which was launched this year and has already achieved a 68 percent share of the U.S. unit dose laundry segment thanks to its unique look and feel, excellent performance and superior customer convenience.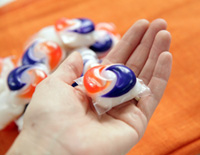 "We wouldn't have been able to deliver the biggest breakthrough in laundry in 20 years if we hadn't partnered and collaborated with MonoSol on a solution to what seemed to be an unsolvable proposition," said Bob McDonald, P&G Chairman of the Board, President and Chief Executive Officer.
Tide Pods is a single-use packet with three chambers that hold liquid detergent, a stain fighter and a brightener. For the project, MonoSol developed a new proprietary film that dissolves rapidly in the wash, even in cold water, yet holds up to wet hands.
"At MonoSol, we don't just sell water soluble films, we provide total solutions and drive industry innovation by partnering with our customers, big and small," said Tom Yogan, Director of Research & Development at MonoSol. "MonoSol has been helping to develop unit dose detergents for many years, including Procter & Gamble's Ariel product. The Tide Pods technology is a leapfrog in many aspects in terms of the state-of-the-art MonoDoseTM detergents. It is an honor to be recognized by Procter & Gamble for our role in the development of this very successful new product."
"Our Connect+Develop Open Innovation partnerships are helping us deliver game-changing innovations and strengthen our productivity culture. We celebrate their work, and thank them for their partnership," said McDonald. Laura Becker, General Manager P&G Global Business Development, added, "Their collaboration with our teams has been seamless and wholly focused on helping deliver a superior product for consumers."