In a continuation of its corporate advertising campaign, Kuraray will air the newest episode in the "Mirabakesso"(*) TV commercial series on Thursday, December 29, 2011.
In the new "○○-Type Jumping Mirabakesso" episode, the alpaca "Kuraray-Chan" jumps through a hoop-shaped object held by actress Riko Narumi, transforming into various forms of "○○-Type Kuraray-Chan." These "transformations" highlight the new materials produced through Kuraray's accumulated R&D activities.
Continuing from the previous episode, this commercial seeks to promote Kuraray's positive corporate image as a "unique global chemical manufacturer committed to contributing to society through an array of new and evolving materials."
*

Derived from the campaign phrase "Mirai ni Bakeru Shinsozai" which can be literally translated as "new materials that transform into the future"
1. Summary of the TV Commercial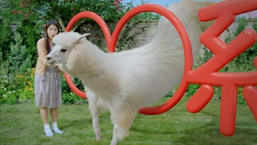 Kuraray-Chan transforms as it jumps through the hoop!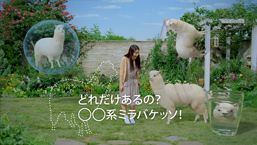 How many types are there?
○○ types of Mirabakesso!
Title
Kuraray Corporate Commercial "○○-Type Jumping Mirabakesso" episode running as 15 and 30 second spots
Start of Broadcast
December 29, 2011 (Thursday)
TV Commercial Storyline
The "○○-Type Jumping Mirabakesso" episode begins with Riko Narumi holding a hula hoop-shaped object. Riko moves toward Kuraray-Chan and calls out: "You can transform into many things!" Kuraray-Chan becomes energized and jumps through the hoop, transforming into flexible, transparent, soluble and other forms of "○○-Type Mirabakesso." Riko watches with great interest and wonders: "How many things can "○○-Type Mirabakesso" change into?"
Broadcast Schedule
(1)

TV programming (nationwide)
Kuraray Special: "Ideas and Dreams for the World: The Bond between Magosaburo Ohara and Torajiro Kojima"
(BS Japan, Thursday, December 29, 2011, 4:00 p.m.–4:55 p.m.)
"Manaberu (Educational) News: New Year's Special"
(TV Asahi, Saturday, December 31, 2011, 6:00 p.m.–1:30 a.m.)
"Gaia no Yoake" (Dawn of Gaia) (documentary program on economic subjects, broadcast in affiliation with TV Tokyo Corporation from 10:00 p.m. to 10:54 p.m. every Tuesday)
(2)

Commercial Airing Locations

Kanto, Kansai, Niigata, Okayama, Kagawa, Ehime (Japan)
Thursday, December 29, 2011–Tuesday, January 31, 2012
Production Staff
Production Company : LIGHT PUBLICITY CO., LTD.
Creative Director : Nobuyuki Miyadera
Director : Yoshinari Kamiya
TV Commercial Concept Developed by the Production Staff

As Kuraray is marking the fifth year of this corporate advertising campaign in 2011, in planning the new commercial the production staff focused on promoting Kuraray's positive corporate image as a "unique global chemical manufacturer committed to contributing to society through an array of new and evolving materials." "Mirabakesso" materials are contributing to the world and individual well-being through the development of limitless applications. This commercial uniquely showcases the flexible, transparent, adhesive and soluble qualities of "Mirabakesso" materials through the transformation of Kuraray-Chan's body.
2. Behind the Scenes
The commercial was shot at a studio in Tokyo in late November. A garden set was assembled that recreated a fantastic and mysterious world. In this commercial, the real name of this alpaca is Kotsubu, a one-year-old male alpaca who is the fifth to play Kuraray-Chan. In fact, Kotsubu is the younger brother of Hanako, the first alpaca to play Kuraray-Chan. In this commercial, jumping through a hula hoop-like, "○○-type" object transforms Kuraray-Chan into various forms of "○○-Type Kuraray Chan." Although the "○○-Type Kuraray-Chan" transformation scene was created through computer graphics, Kuraray-Chan's jumps were live-action shots. In preparation for filming, Kotsubu underwent special drills jumping over hurdles. After successfully jumping the hurdles, Kotsubu performed spectacular jumps at the set. According to his keepers, Kotsubu's reflexes are unrivaled among alpacas of the same generation so prepare to be impressed by this athletic Kuraray-Chan's beautiful jumping performance. In addition, the look of surprise on Riko's face when watching the various forms of "○○-Type Kuraray-Chan" appear showcases her compelling array of emotional expressions. Since these "○○-Type Kuraray-Chans" were created with computer graphics, Riko's performance was filmed in an empty set. Despite this, Riko's look of complete surprise gave the impression that "○○-Type Kuraray-Chan" was really there. Such acting ability was greatly admired by the staff.
3. Profile of Riko Narumi

Riko Narumi was born on August 18, 1992 in Yokohama City, Kanagawa Prefecture. She was cast in her first leading role in the drama "Ruri no Shima" in 2005. In 2012, she will appear in NHK's historical "Taiga" drama series, "Tairano Kiyomori" as well as the movie, "LOVE: Masao-kun ga iku!," which is scheduled to be released on June 23.
4. About Alpacas

The fifth alpaca to play Kuraray-Chan, Kotsubu was born on July 27, 2010 and is the younger brother of the original Kuraray-Chan.
Found mainly in South America, alpacas have been domesticated since the time of the ancient Inca Empire. They live on grass and moss and grow to reach approximately 2 meters in height and 50 kg in weight. Though hard to imagine from their cute, unique appearance that stays in one's mind at just one glance, they are very cautious and shy.
5. Purpose of the Ad Campaign
Kuraray was established in 1926 in Kurashiki City, Okayama Prefecture, as a manufacturer of rayon synthetic fiber. After succeeding in the commercialization of Japan's first PVA fiber, KURALON, based on technologies developed domestically, Kuraray has utilized the technology for poval, the material used in creating KURALON, to evolve into a specialty chemical company boasting the world's largest market share for many highly functional materials developed using the Company's own technology. These materials include: optical-use poval film, which is essential for LCDs used in televisions and PCs; EVAL, a resin distinguished by its excellent gas barrier properties; CLARINO, a type of manmade leather used in school bags and other applications; and SEPTON, an advanced hydrogenated styrenic thermoplastic elastomer with an elasticity similar to rubber.
The Company currently aims to achieve sustained growth through the expansion of businesses providing solutions to global issues, such as new energy-related businesses, aqua businesses and environmentally friendly businesses, utilizing technologies accumulated to date.
This corporate advertising campaign revolving around the television commercials has been conducted to support future growth and boost Kuraray's corporate brand value.
The catchphrase, "Mirai ni Bakeru Shinsozai," was chosen for exactly this reason, which is to show Kuraray's focus on the future progress of both people and the organization. We also tried to create an analogy between the potential of new materials and the potential of youth.