Kuraray Medical Inc. (President: Sadaaki Matsuyama; Headquarters: Chiyoda-ku, Tokyo; Hereafter Kuraray Medical, a wholly owned subsidiary of Kuraray Noritake Dental Holdings Inc.) held a ceremony on December 19, 2011 upon the completion of a new plant (annual production capacity of 1.1 million sets) for dental materials at Kuraray Niigata Plant (Tainai City, Niigata Prefecture).
Kuraray Medical develops products in the following three areas: (1) filling composite resins that achieve solid restoration and have an appearance very similar to natural teeth; (2) bonding agents that adhere filling material and teeth and (3) cement that fills in the spaces between crowns and teeth, adhering to both surfaces. Kuraray Medical has acquired the top share of the Japanese composite resin and bond market, while expanding its sales channels abroad, and its ratio of overseas net sales currently exceeds 60%.
Upon the completion of this plant, Kuraray Medical will strive to invigorate the domestic market and strengthen overseas sales in order to accelerate business expansion.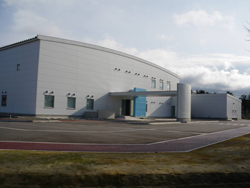 The New Plant
Overview of the New Plant for Dental Materials
Location
On the premise of Niigata Plant,
Kuraray Co., Ltd.
(2-28, Kurashiki-cho, Tainai City,
Niigata Prefecture)
(General Manager: Osamu Yamada,
Executive Officer)
Production capacity
1.1 million sets per year
Capital investment
Approximately ¥5.5 billion
Under the management of Kuraray Noritake Dental Holdings Inc. (President: Sadaaki Matsuyama; Head Office: Chiyoda-ku, Tokyo; 66.7% owned by Kuraray Co., Ltd. and 33.3% by Noritake Co., Limited) established in April 2011, Kuraray Medical commenced the collaboration for dental materials business with Noritake Dental Supply Co., Limited. (President: Kozo Yamada; Head Office: Nishi-ku, Nagoya City; hereinafter Noritake Dental) that boasts the top domestic share of ceramics for crowns.
Aiming to absorb Noritake Dental by April 2012, Kuraray Medical will make increasing efforts to generate greater synergy effects as Kuraray Noritake Dental Inc.
Reference
Kuraray Medical Inc.

| | |
| --- | --- |
| Head office | 1-1-3 Otemachi, Chiyoda-ku, Tokyo |
| President | Sadaaki Matsuyama |
| Principal businesses | Development, production and sale of medical-related products, including dental materials |
| Paid-in capital | ¥300 million (100% owned by Kuraray Noritake Dental Holdings Inc.) |
| Establishment | June 21, 2001 |
Noritake Dental Supply Co., Limited.

| | |
| --- | --- |
| Head office | 3-1-36 Noritake-shinmachi, Nishi-ku, Nagoya City |
| President | Kouzo Yamada |
| Principal businesses | Development, production and sale of ceramics for crowns, dental plaster and CAD/CAM devices |
| Paid-in capital | ¥80 million (100% owned by Kuraray Noritake Dental Holdings Inc.) |
| Establishment | April 1, 1998 |
Kuraray Noritake Dental Holdings Inc.

| | |
| --- | --- |
| Head office | 1-1-3 Otemachi, Chiyoda-ku, Tokyo |
| President | Sadaaki Matsuyama |
| Principal businesses | Management of subsidiaries and contingent businesses |
| Paid-in capital | ¥5 million (66.7% owned by Kuraray Co., Ltd. and 33.3% by Noritake Co., Limited) |
| Establishment | April 13, 2011 |