Kuraray Co., Ltd. announces that it will exhibit at The 11th Eco-Products 2009 - Eco Style Fair, which will begin on December 10, 2009. This marks the fifth consecutive year, since 2005, that the Company has participated in this event. An overview of Kuraray's exhibit is featured below.
By leveraging its unique technologies, Kuraray aims to provide solutions to international issues that include global warming, limited natural resources, water/food shortages and environmental pollution. Examples of Kuraray's efforts to deal with such issues will be exhibited at The 11th Eco-Products 2009 – Eco Style Fair and are based on a concept entitled, "Solar and Water Mirabakesso.*" This exhibit will showcase materials and systems developed by the Kuraray Group that are related to solar power generation and the water-processing business.
*

The Kuraray Group's advertising campaign catchphrase is a contraction of "Mirai ni Bakeru Shinsozai." Translated from the Japanese, it means: "New materials that transform into the future."
Opening hours
December 10 (Thurs.) - December 12 (Sat.), 2009, 10:00 a.m. - 6:00 p.m. (until 5:00 p.m. on the final day)
Venue
Tokyo International Exhibition Center "TOKYO BIG SIGHT," Hall No. 5 (Booth No. 5-064)
Main items to be exhibited

PVB (polyvinyl butyral) film used as a sealing material for solar cell panels
The wastewater treatment system is capable of significantly reducing the production of excess sludge, while decreasing the space required for disposal facilities
High-precision water filtration equipment that is used in the collection and recycling of water and valuable resources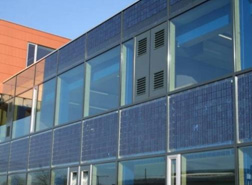 An example of solar cell panels that use PVB film
as a sealing material (provided by Ertex Solar)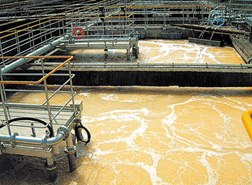 Kuraray Saijo Plant wastewater treatment facility
that uses "the wastewater treatment system"