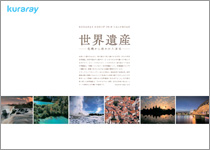 "World Heritage: Treasures Saved from Danger" Cover
Each year, the chemical manufacturer, Kuraray Co., Ltd., produces a highly popular, user-friendly calendar that takes "nature" as its theme.
For the 2010 edition, Kuraray is unveiling a calendar that focuses on the theme, "Treasures Saved from Danger" through photographs and descriptive summaries. As of July 31, 2009, approximately 900 world heritage sites are in danger of suffering significant damage due to natural disasters or human actions. The 2010 calendar focuses on 12 "heritage sites in danger" that have been beautifully revitalized. Summaries are included that highlight the actions taken by concerned individuals to save these heritage sites from danger. The summary for each month is accompanied by a photograph of the restored heritage site.
The following provides an outline of the calendar.
1. Calendar Features
(1)

Each month features a photograph of a world heritage site accompanied by a descriptive summary. These summaries were compiled in cooperation with the National Federation of UNESCO Associations in Japan.

(2)

This is a 14-page calendar comprising seven sheets of paper printed on both sides and is 52 cm long x 36 cm wide when fully opened. The calendar is folded in half during delivery, making it compact, and the double-sided printing was used to conserve paper resources.

(3)

Features a practical, functionally decorative and user-friendly design.

(4)

The date boxes provide ample space for writing in appointments and notes and the numbers for the dates are shown clearly and in large type so that they can be easily seen from a distance.

(5)

A thumbnail view on page 14 shows the photograph and summary for each month.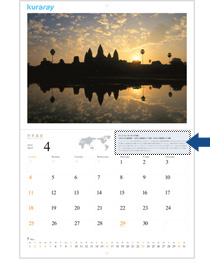 "World Heritage: Treasures Saved from Danger" April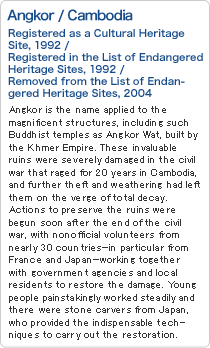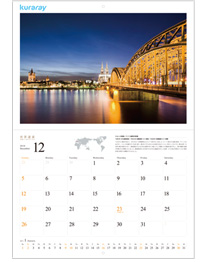 "World Heritage: Treasures Saved from Danger" December
2. The 2010 Kuraray Calendar "World Heritage: Treasures Saved from Danger" Collection
| | Name | Country | Year of registry as a World Heritage Site | Year of registry in the List of Endangered Heritage Sites | Year of registry as a World Heritage Site |
| --- | --- | --- | --- | --- | --- |
| January | Yellowstone National Park | United States of America | 1978 | 1995 | 2003 |
| February | Natural and Culturo-Historical Region of Kotor | Montenegro | 1979 | 1979 | 2003 |
| March | Ichkeul National Park | Tunisia | 1980 | 1996 | 2006 |
| April | Angkor | Cambodia | 1992 | 1992 | 2004 |
| May | Ngorongoro Conservation Area | Tanzania, United Republic of | 1979 | 1984 | 1989 |
| June | Iguaçu National Park | Brazil | 1986 | 1999 | 2001 |
| July | Timbuktu | Mali | 1988 | 1990 | 2005 |
| August | Old City of Dubrovnik | Croatia | 1979 | 1991 | 1998 |
| September | Group of Monuments at Hampi | India | 1986 | 1999 | 2006 |
| October | Plitvice Lakes National Park | Croatia | 1979 | 1992 | 1997 |
| November | Everglades National Park | United States of America | 1979 | 1993 | 2007 |
| December | Cologne Cathedral | Germany | 1996 | 2004 | 2006 |