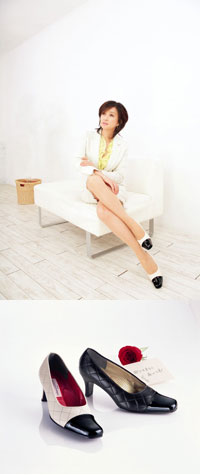 Thanks to a cooperative effort between four parties—actress Kumiko Akiyoshi, JALUX Inc., Hosono Co., Ltd. (Calzeria Hosono) and Kuraray Co., Ltd.—the new comfortable and stylish Kumiko Akiyoshi model of Bikyaku Pumps has been released. The JAL World Shopping Club, a direct marketing catalog published by JALUX, was created as a 25th anniversary project, and its first issue (summer) was published on April 9, 2008. The JAL Group's in-flight direct marketing catalog JAL SHOP began publication with the May/June 2008 issue and JAL Shopping (http://www.shop.jal.co.jp/ -Japanese language only-), a shopping website where JAL Mileage Bank members can earn frequent flyer miles, started up on April 10, 2008.
Developed by Calzeria Hosono, Japan's best-known maker of comfort-conscious shoes, Bikyaku Pumps are made of PARCASSIO, Kuraray's highest quality man-made leather, to which a natural leather finish has been applied, and have been a best-selling product of JAL SHOP since 2004. The shoe design is very fashionable while being stable and comfortable to the feet thanks to 1) a design that does not compress the toes and allows the big toe to stretch fully out, 2) a shape that is graceful and perfectly highlights the instep and 3) greater cushioning of the arch of the foot.
Kumiko Akiyoshi's winning of the grand prize in the "40 and over category" at the Fifth Annual PARCASSIO Beautiful Legs Grand Prix (held in September 2007) hosted by the PARCASSIO Club was what brought about her collaboration with us on this project. By partnering with Mrs. Akiyoshi—a discerning shoe aficionado who never fails to visit shoe stores when traveling abroad—we thought that we could come up with a new twist for Bikyaku Pumps and we therefore developed this model. Mrs. Akiyoshi, who believes that "If legs are important, then shoes are important," tried on various models numerous times, providing suggestions for their improvement, thereby resulting in the launch of the new model.
PARCASSIO

Club

The PARCASSIO Club is composed of six of Japan's leading premium shoe manufacturers. These manufacturers apply the unique characteristics of Kuraray's PARCASSIO premium man-made leather to craft shoes for a new era.
Kumiko Akiyoshi
Kumiko Akiyoshi made her debut in the film "Akachochin," and has subsequently appeared in numerous other films and dramas. Mrs. Akiyoshi has lived up to her reputation as one of Japan's leading actresses, having received numerous awards, including the Golden Arrow Award for Best Newcomer, the Blue Ribbon Award for Performance by an Actress in a Leading Role, the International Critics Award and an Award for Best Performance by an Actress in a Leading Role at the 19th Japan Academy Awards. Among other achievements, Mrs. Akiyoshi has recently published a collection of poems as well as a book of her own photos, writes a blog and has directed a short film. In the fall semester of 2007, Mrs. Akiyoshi began academic life at Waseda University's School of Public Management.
Catalog Sales
Direct marketing catalog JAL World Shopping Club—First Issue/Summer. Released April 9, 2008
In-flight direct marketing catalog JAL SHOP
Inaugural issue: May/June 2008
JAL Shopping, the shopping website for JAL Mileage Bank members
http://www.shop.jal.co.jp/ -Japanese language only-
Released April 10, 2008
The Kumiko Akiyoshi Model of Bikyaku Pumps
Material
Outside:

PARCASSIO

Soles
Lightweight rubber
Size
21.5cm to 25.5cm (0.5cm increments)
Color
White, black
Price
¥23,300 (with consumption tax, ¥24,150)
Sales Promotion
Purchasers of Bikyaku Pumps will receive a free, original shoe case as a gift.
PARCASSIO

Features
Luxurious feel similar to natural leather (bends and wrinkles like real leather)
Highly durable finish (flexible, scuff resistant)
Moisture and air permeable
Lightweight (approximately 70% of the weight of natural leather)
Easy to care for
JALUX Inc.
| | |
| --- | --- |
| President | Zenta Yokoyama |
| Headquarters | JAL Building, 2-4-11 Higashi-Shinagawa,Shinagawa-ku, Tokyo |
| Capital | ¥2,558.55 million (as of March 31, 2007) |
| Principal businesses | Aviation-related business, lifestyle-related business and customer service business |
Hosono Co., Ltd.
| | |
| --- | --- |
| President | Masaru Hosono |
| Headquarters | 5-1-2 Minami Aoyama, Minato-ku, Tokyo |
| Capital | ¥10 million (as of March 31, 2007) |
| Principal businesses | Manufacturing and sales of ladies and gentlemen's shoes |
Kuraray Co., Ltd.
| | |
| --- | --- |
| President and Representative Director | Yasuaki Wakui |
| Headquarters | 1-1-3 Otemachi, Chiyoda-ku,Tokyo |
| Capital | ¥89.9 billion (as of March 31,2007) |
| Principal businesses | Manufacturing and sale of chemicals and resins, fibers and textiles, high-performance materials, medical products, etc. |