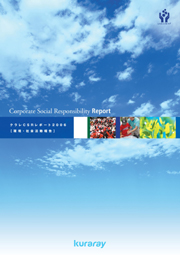 Kuraray Co., Ltd. (Headquarters: Tokyo; President: Yasuaki Wakui) has recently published the Kuraray CSR Report 2006 (48 A4-sized color pages), detailing the corporate social responsibility (CSR) activities of the Kuraray Group.
This is the third CSR Report that Kuraray has published. it has published reports on its environmental activities annually since 1998. In response to the rising emphasis on CSR in recent years, it has become necessary for firms to engage in a broad scope of social and economic activities in addition to environmental activities, and this prompted Kuraray to establish a CSR Committee and expand its CSR activities in 2003. The following year, the achievements of these programs were published in the Company's first CSR report, the Kuraray CSR Report 2004. The Office of CSR and Communications, which was established in April 2006 to integrate and coordinate Kuraray Group CSR activities, corporate communications and risk management, played a central role in the publication of this third edition. In response to the comments of readers of the second edition, the 2006 report contains more detailed program information.
The report is arranged in three parts: Introduction section, Activities to Benefit the Community and Employees section, and Environment and Safety Activities section, with each section containing "Close-Up" high-lights on particularly notable successes and new programs that have been launched.
The Activities to Benefit the Community and Employees section reports on an exhibition of art works by students at the school for the deaf that is affiliated with Tsukuba University, tours of Company plants and the Sending School Bags Across the Sea campaign, through which Japanese elementary school students after graduation donate the school bags they used every day to children in Afghanistan and Mongolia.
The Environment and Safety Activities section includes discussions on Kuraray's efforts to combat global warming through a 10% reduction in CO2 emissions per specific unit of production, reports on the switch from heavy boiler oil to natural gas at the Okayama Plant and the installation of a steam condensate generating facility at the Niigata Plant. The emergency reports "Safety is the Cornerstone of Every Activity" and "Special Safety Promotion Activities" are included in the report on the accident that occurred at the Okayama plant in 2005.