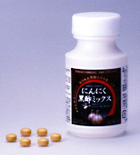 Kuraray Family Products (headquarters: Osaka; President: Yoshikazu Takamoto) markets a line of health foods, cosmetics, and other products. On November 15 they will begin marketing Ninniku Kurozu Mix,
a designated food with health claims that they have developed using odorless garlic from Aomori Prefecture, powdered black rice vinegar mash from Kagoshima Prefecture, and other ingredients.
The photograph shows the 120-tablet bottle, which will retail for ¥3,780 (including consumption tax). (ninnniku: garlic kurozu: black rice vinegar)
The new product is marketed as a food with health claims, to support the efforts of people who wish to increase their energy levels, people who tire easily, and people who wish to improve the condition of their skin.
Today, both garlic and black rice vinegar are extremely popular health foods. Ninniku Kurozu Mix contains (1) odorless garlic from Aomori, which is cultivated in mineral-rich soil, (2) powdered black rice vinegar mash from Kagoshima, a precious substance that has been laboriously produced from black rice vinegar since the Edo Era by aging it for a year in a pottery jar, (3) maka, which is widely believed to confer vital energy, and (4) royal jelly, which provides B complex vitamins and zinc, a mineral often lacking in the diet. To guard against the odor of garlic, Ninniku Kurozu Mix comes in tablets with a special coating that dissolves in the intestine rather than the stomach, guarding against breath odor.
Product characteristics
1.

Product name

Ninniku Kurozu Mix

2.

Package volume

38.4 grams (120 tablets of 320mg each)

3.

Suggested use

Up to four tablets a day, taken with cold or hot water

4.

Each 320mg tablet contains

| | |
| --- | --- |
| Odorless garlic from Aomori | 38mg |
| Powdered black rice vinegar mash from Kagoshima | 22mg |
| Powdered maka | 15mg |
| Powdered royal jelly | 5mg |
| Powdered green tea extract | 5mg |

5.

Suggested retail price

¥3,780 for 120 tablets (including consumption tax )

6.

Marketing routes

Membership marketing, mail-order marketing, etc.