Kuraray has developed EVAL SP, a new EVOH resin offering a high level of gas impermeability, plasticity and elasticity, and last December commenced construction of facilities to manufacture 5,000 tons per year of the new material at its Okayama Plant. Construction has been completed, and production commenced October 28.。
EVAL SP is based on EVOH resin EVAL, which boasts the highest level of gas impermeability of any plastic. The new material has excellent plasticity, elasticity and workability. As a wrapping material it will preserve the freshness of foods, and an unprecedented range of applications is expected for it in the field of industrial materials.
Kuraray was the first company to commercialize EVAL in 1972, which is used as a food packaging material for ketchup and mayonnaise bottles, condiment tubes, and other containers, and is now used to make automotive fuel tanks. Kuraray now has business bases in the U. S. and Europe as well as Japan. The Company is working to expand the world market, of which it has a 70% share.
On October 19, Kuraray's newly expanded European manufacturing facilities commenced operations, and the combined capacity of its three plants is now 57,000 tons per year. Kuraray has decided to double the capacity of its U. S. plant to 47,000 tons per year, which will bring total capacity to 81,000 tons per year in the spring of 2006.
With the commencement of EVAL SP production, which combines the gas impermeability of EVAL with plasticity and elasticity not displayed by that material, Kuraray is poised to gain access to areas of the food packaging field that were previously closed to it. These include:
1)

Shrink film
(for fresh meat and other foods)
2)

PET-type barrier bottles
(for carbonated beverages)
3)

Deep-draw cups and trays (for deserts and drinks)
EVAL SP will significantly broaden the horizons of Kuraray's gas-barrier material business. The Company has designated it a strategic material and is supporting it with significant expansions of EVAL production capacity in Europe and the U. S., as mentioned above.
In addition to its 10,000 ton-per-year EVAL manufacturing facilities, Kuraray's Okayama Plant has large facilities for the production of vinyl acetate chemicals such as Poval resin and KURALON fiber. It is the worldwide "mother factory" of Kuraray's vinyl acetate business, and will continue to develop and release new technologies and materials.
The Facility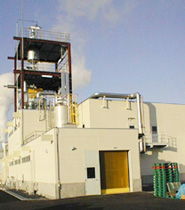 Location
Kuraray's Okayama Plant
1-2-1 Kaigan-dori, Minami-ku, Okayama city, Okayama prefecture.
Plant Manager
Toshihide Sakai
Production capacity
5,000 tons per year
Capital investment
Approximately ¥1.0 billion
Marketing concept
(1)

Estimated world market 35,000 tons per year
(For comparison) EVOH world market 70,000 tons per year

(2)

Sales targets


| | |
| --- | --- |
| Fiscal 2005 5,000 tons per year | Estimated net sales, ¥5.0 billion |
| Fiscal 2007 10,000 tons per year | Estimated net sales,¥10.0 billion |
<Additional Information>
EVAL

Production Capacity (Tons per year)
| Plant | Present | Spring 2006 | Remarks |
| --- | --- | --- | --- |
| Japan (Okayama) | 10,000 | 10,000 | |
| U.S. (Texas) | 23,000 | 47,000 | Capacity scheduled to increase by 24,000 tons per year in March, 2006 |
| Europe (Belgium) | 24,000 | 24,000 | Capacity increased by 12,000 tons per year in October, 2004 |
| Total | 57,000 | 81,000 | |