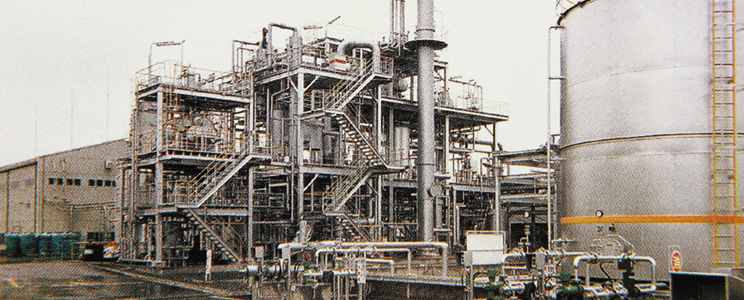 1990s
Kuraray commercialized thermoplastic elastomer SEPTON™, new PVA fiber KURALON K-II™ and heat-resistant polyamide resin GENESTAR™. Kuraray also established EVAL™ and PVA resin manufacturing facilities in Belgium and Singapore, respectively.
1990

Commercialized high-strength polyarylate fiber VECTRAN™ (Saijo).
Commercialized thermoplastic elastomer SEPTON™ (Kashima).

Signing ceremony for the establishment of Poval Asia
1991

Commercialized opto-screens (fresnel lens) (Nakajo).
Established Kuraray Europe GmbH in Düsseldorf, Germany.
Established Kyoudo Monomer Corp., a methyl methacrylate (MMA) manufacturing and sales company, jointly with Mitsui Toatsu Chemicals, Inc.
Philanthropy and Ecology Committee established to strengthen our societal contribution and environmental preservation programs.
1992

Matching gift system "Kuraray Fureai Fund" commenced.
"Chemistry Classes for Boys and Girls" event held for the first time.
Commercialized polyurethane fiber (Saijo: halted in 1999).
1993

Established the Kuraray Action Guidelines on the Global Environment.
President Hiroto Matsuo took office.

EVAL Europe N.V.
1994

Established Kuraray Techno Co., Ltd.
Established Tsukuba Research Laboratory (now the Tsukuba Research Center, Optical Device R&D Center).
1995

Established Kuraray Hong Kong Co., Ltd.
1996

Established Kuraray America, Inc. as a holding company and to coordinate U.S. subsidiaries (company name changed to Kuraray Holdings U.S.A., Inc. in 2000).
Established PVA manufacturing firm Poval Asia Pte. Ltd. in Singapore jointly with The Nippon Synthetic Chemical Industry Co., Ltd.
1997

Established PVA sales company Kuraray Specialities Asia Pte. Ltd. in Singapore.
Established Kuraray Finance & Accounting Co., Ltd. and Kuraray Information Systems Center Co., Ltd. (merged to become Kuraray Business Service Co., Ltd. in 2001).
1998

Commercialized new PVA fiber KURALON K-II™ (Okayama).
1999

Poval Asia began manufacturing PVA.
EVAL Europe began manufacturing EVAL™.
Commercialized heat-resistant polyamide resin GENESTAR™ (Kashima and Saijo).

GENESTAR™ products