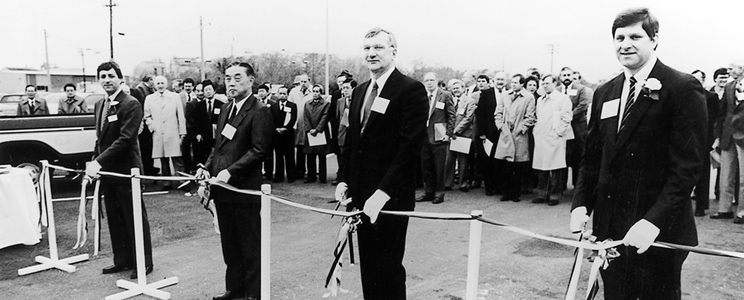 1980s
Kuraray established a joint venture in the U.S. to manufacture and market EVAL™ to support overseas business development, and also began producing opto-screens.
1982

President Taichi Ueno took office.
Completed EVAL™ biaxially-oriented film plant (Okayama).

Food packaging products made with EVAL™
1983

Commercialized KURALON™ short staple fiber for cement reinforcement.
Established Eval Company of America jointly with Northern Petrochemical Company of the U.S. (became a wholly owned subsidiary in 1991).
1984

Established Techno Soft Co., Ltd.
Established Haru-Kuraray GmbH, a man-made leather sales company, in Germany jointly with Marubeni Corp. and Ha-ru GmbH.
1985

Commercialized soft contact lenses (Kurashiki).
President Hisao Nakamura took office.

Contact lenses
1986

Established Clarino America Corporation, a man-made leather sales company, in the U.S. jointly with Marubeni Corp. (absorbed into Kuraray America, Inc. in 2001).
Established Kuraray Family Products Co., Ltd. and Kuraray Travel Service Corporation.
Commercialized optical disks (Kashima: halted in 2003).
Commercialized diols (Kashima).
Eval Company of America began manufacturing EVAL™ in the U.S.
1987

Provided 1,4- butanediol manufacturing technology to Arco Chemical Company of the U.S.
1988

Established Central Research Laboratory, Tsukuba Office.
Commercialized opto-screens (lenticular lens) (Nakajo).
Established Securir Co., Ltd. (absorbed into Techno Soft in 2001).
Hook-and-loop fastener manufacturing transferred to Magic Tape Co., Ltd.

MAGICTAPE™ products
1989

Commercialized melt blown nonwoven fabrics (Kurashiki: transferred to Saijo in 1995).