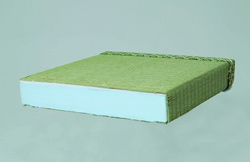 Tatami mat : Cross section
Dow Kakoh K.K. (Headquarters: Shinagawa-ku, Tokyo; President: Hideki Yano; hereafter Dow Kakoh) and KURARAYKURAFLEX Co., Ltd. (Headquarters: Kita-ku, Osaka City; President: Takashi Nakajima; hereafter KURARAYKURAFLEX) have jointly developed a new concept in tatami mats (joint patent application process is currently underway), and the new product is to be released by Dow Kakoh nationwide on July 8, 2009.
Although tatami is an inherent part of Japanese traditional culture, changes in the living environment have led to a shift from tatami mats to carpets and flooring, causing a contraction in this market. However, in recent years, there has been a reexamination of the use of tatami in housing and other structures.
Despite the traditional use of tatami mats made of rice straw, there have been ongoing difficulties related to supplier circumstances that precede customer preferences:
(1)

Insufficient straw materials

(2)

Reduced requests due to aging tatami artisans

(3)

The need for price reductions and uniform quality
Consequently, there has been a shift towards tatami mat construction materials that use absolutely no straw.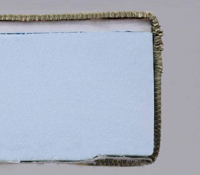 Tatami mat : Cross Section
| | | |
| --- | --- | --- |
| Composition | 'DK Boards' | 5mm |
| | "STYROFOAM" | 45mm |
In response to these circumstances, Dow Kakoh has used "STYROFOAM" extruded polystyrene foam boards to progressively reproduce the feel of straw tatami mats to which the Japanese people are accustomed. At the same time, Dow Kakoh was able to make progress in conceiving and developing a product concept for tatami construction materials that achieves an overall lightweight quality. In order to realize this concept, Dow Kakoh examined methods to increase the strength of extruded polystyrene foam boards as well as to combine suitable cushioning/reinforcing materials that reproduce the feel of straw tatami.
Although KURARAYKURAFLEX has expanded applications for its steam-jet type non-woven fabrics, it has continued to engage in tatami-oriented joint development efforts with Dow Kakoh in order to provide materials that match Dow Kakoh's new tatami mat design concept.
This new tatami mat construction material has been constructed from Dow Kakoh's "STYROFOAM" extruded polystyrene foam boards and KURARAYKURAFLEX's steam-jet type non-woven fabrics by using new-and-improved DK Boards designed for tatami mats.
These 'DK Boards' have a combined two-layer construction that is a combination of a layer capable of absorbing shock and providing cushion as well as a layer able to retain rigidity.

Characteristics of the New Tatami are as follows:
Lightweight

With a single tatami mat (50mm thick, 910mm wide, 1,820mm long) weighing just 4kg, a significant reduction in weight has been achieved compared with conventional tatami, thus lightening the burden on workers.

Reference: straw tatami mats approximately weigh 30kg and tatami mats constructed from general-purpose materials weigh approximately 10 to 20kg

Feel that is close to straw tatami

Reducing the burden on legs and hips, this product pursues lifestyle comfortable via tatami.
Displaying superior shock-absorbing capabilities during falls, this product helps to prevent accidents in the home.

High heat insulation capacity

This product has tripled the heat insulation capacity of standard straw tatami mats (thermal resistance value: 1.2m2K/W).
Displaying superior energy saving capability, this product is expected to lead to reductions in energy costs and CO2 emissions.
From here on, Dow Kakoh and KURARAYKURAFLEX will make strides in developing new markets by leveraging the technological and product development capabilities of both companies.
*

"STYROFOAM" is a trademark of Dow Chemical Company.
"STYROFOAM" extruded polystyrene foam boards - which were developed by the U.S. corporation, Dow Chemical Company - began to be produced in Japan in 1962 and have been the industry's top seller for over 40 years as a product synonymous with superior heat-insulation materials.

*

Steam-jet type non-woven fabrics produced through KURARAYKURAFLEX's steam jet manufacturing methods - a world's first - enables the manufacturing of a wide range of non-woven fabrics by combining such materials as Kuraray's propriety

EVOH

fiber with various manufacturing conditions. Non-woven fabrics that are treated with

EVOH

fibers under high heat and high pressure provide light and flexible construction materials for board frames that feature superior sound and heat absorption, thus capturing attention as an appropriate material for making tatami.
Sales route
Nationwide "STYROFOAM" tatami mat distributors to tatami stores
Retail price
¥18,000 per tatami mat (Karuzo Tatami; reference price includes manufacturing costs)
Sales targets
After five years: 1 million tatami mats
Overview of Dow Kakoh K.K.
| | |
| --- | --- |
| Headquarters | 2-2-24, Higashi Shinagawa, Shinagawa-ku, Tokyo |
| Representative | Hideki Yano, Representative Director and President |
| Capital | ¥2.3 billion (Dow Chemical Company U.S. 65%, Sumitomo Chemical Co., Ltd. 35%) |
| Established | May 25, 1982 |
| Principal Businesses | Manufacture and sale of "STYROFOAM" extruded polystyrene foam boards |
Overview of KURARAYKURAFLEX Co., Ltd.
| | |
| --- | --- |
| Headquarters | 1-12-39, Umeda, Kita-ku, Osaka City |
| Representative | Takashi Nakajima, Representative Director and President |
| Capital | ¥100 million (100% Kuraray) |
| Established | April 1, 2005 (established in 1971 under the previous name, Kuraray Chicopee Co., Ltd.) |
| Principal Businesses | Production, processing and sales of non-woven fabrics and non-woven fabric products |