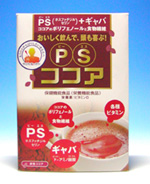 Kuraray Family Products Co., Ltd. (Headquarters: Osaka, President: Yoshikazu Takamoto) which markets various health foods and cosmetics, has developed a new "health cocoa." The new beverage, designated a food with health claims, is fortified with phosphatidyl serine (PS) from soybeans, gamma-amino butyric acid (GABA) from kimchi and a number of vitamins. The photograph shows a seven-envelope package, which will retail for ¥1,050 (including tax) beginning on January 5, 2005.
This food with health claims will be promoted for use by children, students taking entrance exams, people studying for tests , people who throw their energies into their work, and people who just want to feel better.
Found in soybeans, PS is a type of phospholipid also found in human cells. Brain cells have particularly high levels of PS, and this substance is closely related to the maintenance of brain function. GABA, which is found in sprouted brown rice and kimchi, is a type of neurotransmitter that exists in the human brain. This substance prevents over-firing of nerve cells and helps us relax. It is also said to increase the brain's supply of oxygen and nutrition by improving circulation around the brain.
In addition to PS and GABA, the health cocoa contains ten vitamins, including vitamin D, calcium, and magnesium, all of which makes it healthy as well as tasty.
Product description
1.

Product name

Health Cocoa

2.

Contents of package

70 grams (7 envelopes of 10 grams to a package)

3.

Recommended use

Mix one envelope of the health cocoa with 120 to 150ml of hot water or heated milk. The health cocoa can also be mixed with cold water or milk.

4.

Principal nutritional ingredients

(per 10-gram envelope)


| | |
| --- | --- |
| Carbohydrates | 6.1g |
| Edible fiber | 630mg |
| Polyphenol from cacao | 108mg |
| Phosphatidyl serine | 20mg |
| Gamma-amino butyric acid | 20mg |

5.

Primary nutrient substance

(per 10-gram envelope)
Vitamin D:50IU

6.

Suggested retail price

¥1,050 (including tax) for a seven-envelope package