Kuraray is the foremost supplier of the poval film used as a base for the polarized film needed in LCD manufacturing.
The LCD market is growing rapidly as a result of the increasing sizes of liquid crystal televisions. Kuraray has decided to expand its production capacity by approximately 50% of its level as of February 2004, and expansion of the new production line is in progress. However, demand has grown faster than initially forecast, and it has now become necessary to draft a new capacity expansion plan, and construction has recently begun.
This is intended to double our present production capacity of poval film for making polarized film by July 2005, which will allow us to keep pace with burgeoning demand.
Trends in Production Capacity
Plant
Capacity expansion (annual)
Completion date
Total production capacity
(annual)
Current Status
Kuraray Saijo
31 million m²
Expansion now in progress
Kuraray Tamashima
15 million m²
March 2005
46 million m²
Capacity after planned expansion
Kuraray Tamashima
15 million m²
July 2005
61 million m²
Poval (polyvinyl alcohol) film has excellent transparency, dyeability, static resistance, stretchability, making it ideal for the manufacture of the polarized film needed in LCD production. Kuraray is an industry leader in the production of vinyl acetate chemical products, including poval resin and film, EVAL (ethylene vinyl alcohol) resin, KURALON and textiles, and poval film for polarized film, providing stable quality using an integrated manufacturing system. This system is highly regarded by customers.
The LCD market is expected to exceed ¥8 trillion in 2007, driven by the expansion in demand for notebook personal computers screens and LCD monitors, as well as the steep growth in demand for LCD televisions. The increasing market permeation and growing screen size of LCD televisions, together with the continuously growing market for computer monitors, is expected to produce sustained annual growth of 30 to 40% in this market. Given these trends in the market, Kuraray estimates that demand for optical-use poval film will grow at an annual rate of approximately 30%.
The new production line that will be expanded under this plan, like the line being expanded in the project now in progress, will be capable of manufacturing wide film for large-screen LCDs. In addition, these lines will be able to meet the higher quality requirements accompanying the growth in screen size. These increases in width and quality will contribute to higher LCD sales, and this in turn is expected to contribute to the expansion of the market.
As the leading manufacturer of poval film for polarized film needed in LCD production, Kuraray will continue to develop new technology and to improve product quality, contributing in this way to the expansion of the LCD market.
Facilities Expansion
| | |
| --- | --- |
| Location | Kuraray Tamashima Co., Ltd. (Kurashiki City,Okayama Prefecture,) |
| Annual production capacity | Annual production capacity: 15 million m² |
| Scheduled completion of work | July 2005 |
| Total capital investment | Approximately ¥2.5 billion |
Kuraray Tamashima Co., Ltd.
Location
Tamashima Otoshima 7471, Kurashiki City, Okayama Prefecture, Japan
President
Katsuya Hashimoto
Capital
¥10 million
Number of employees
125
Plant area
414,000 m²
(Plant floor space: 365,000 m², Employee benefit area: 49,000 m²)
Products
polyester staple, 12,000 tons per year; poval film, 15 million m² (expansion in progress)
Supplementary Information
1. Scope of Market for Large TFT Liquid Crystal Displays by Application (Number of units)
(Millions of units)
2. Trends in Kuraray's Optical-Use Poval Film Production Capacity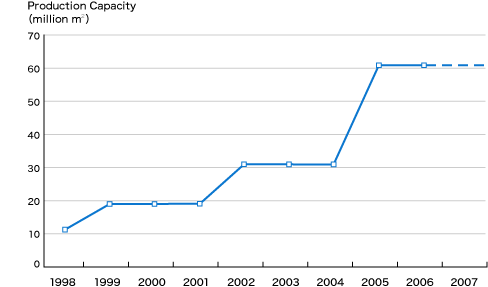 3. LCD Structure