What a pleasure to see such a talented and ambitious group of new recruits. I would like to say a few words on behalf of Kuraray to commemorate this special day.
We meet at a time when Covid-19 is finally under control and both our private and social lives are returning to normal. I know that all of you spent much of your valuable university years under Covid restrictions. I commend you for persevering through these difficult times. Your career as a "Kuraray person" and a full-fledged member of society starts today. I hope you will take this opportunity to reflect deeply and ready yourself for the long career ahead of you.
Now that you are an employee of a corporation, keep in mind that the key to continue working for years to come is to stay fit and healthy. This is fundamental for you to be happy, successful and enjoy job satisfaction. It is important to maintain a balanced diet, get sufficient sleep and rest, exercise and take care of your mental health. If you don't feel well, it will be difficult to concentrate on your job or work effectively and you may be prone to causing accidents. I encourage you to think about and take care of your health on a daily basis. For the company's part, we will continue to improve the work environment and systems that will enable you to work in a safe and healthy manner.
I would also like to remind you that now that you are out in the world, you should always be conscious of being and acting as a responsible member of society. You must, of course, have the ethics, morality and independence expected of a full-fledged member of society, and if you are consistent in your efforts to develop and establish your individual character, you will eventually develop your own, unique "core". You will also foster your own, personal "value system." As your personal "value system" becomes more defined, it will lead to confidence in your thoughts and behaviors and a sense of respect for others and enable you to develop the ability to exhibit leadership in your team and organization. Please remember always to be a respectable member of society and an outstanding "Kuraray person."
To do so, I encourage you to maintain an "attitude of acceptance." There are two aspects of acceptance: One is to accept what happens to you, and the other is to accept who you are. Through acceptance, you gradually expand your caliber.
As you embark on your life as a professional businessperson, I would like to offer three points of advice based on my personal experience.
"If there is anything you don't understand, don't be shy and ask your peers, seniors or superiors."
The first is "if there is anything you don't understand, don't be shy and ask your colleagues seniors or superiors."
It is important not to pretend to know all about a job you are taking on for the first time and to humbly seek guidance without being shy. I know from my experience that when I first started at Kuraray, "I didn't even know what I didn't know." There is bound to be a great deal of "things that you don't know" beyond what you can see, so be sure to ask until you understand. And of course, make sure you remember what you have learned from asking.
"Do your best in the job or role that you have been given"
The second point is to "do your best in the job or role that you have been given."
When you are actually assigned to a department, it is common to find that the job is quite different from what you had imagined. However, I ask you to keep in mind that your superior has taken great care to choose a job that suits your level of experience and with consideration to your future career. Please don't make judgements and be dissatisfied or uninspired based solely on the work you have been given without having an overall understanding of the company and the business. All jobs will have significance. If you are given a job or role, it is important that you apply yourself to it wholeheartedly at least for several years. The accumulation of your daily efforts will likely become your future strength.
You will win the trust of those around you by earnestly engaging in any job that you are tasked with and achieving results. And by so doing, you will be given larger, more important responsibilities the next time.
"To continue to improve yourself" "
The third point is to "continue to improve yourself".
This means not to think of graduating from school as the end of your studies, but instead, to think of joining the company as the beginning of your studies. I encourage you to expand your knowledge and experiences by reading a wide range of books, carefully listening to people and proactively participating in external seminars and training sessions so that you can acquire the refinement and knowledge befitting a responsible member of society. In particular, I recommend that you read as many books as you can. It is a habit that is relatively easy to maintain. Books are truly a wonderful tool packed with an abundance of rich information and teachings. They are an affordable means of exposing yourself to events and the thinking of people from all ages and places.Investing in self-improvement is the surest way to generate a return. I urge you to consciously make the effort to keep improving yourself. It will never be in vain.
Now, while corporate social responsibility and contribution to society have recently become worldwide trends, Kuraray has a solid track record that goes well beyond lip service.
Our founder, Magosaburo Ohara, established a solid foundation for the company's operations and engaged in a variety of social welfare activities and public enterprises based on the firm belief that "profits made from society should be returned to society." He was succeeded by his firstborn son, Soichiro Ohara, who promoted the principle, "for people and the planet—to achieve what no one else can," and argued that to uphold this principle, we must contribute to society using pioneering technology. He was true to his words as he lead the company's growth through numerous challenges.
Since then, we have followed in his footsteps by formalizing and upholding the mission statement, "For people and the planet—to achieve what no one else can". We have drawn on our innovative technologies to launch numerous unique and leading products and businesses to help improve the environment and enhance the quality of life throughout the world.
Today, you are joining a company with this history and corporate culture, and one that continues to evolve and grow. Now that you are a member of the Kuraray Group, I hope you will deliberate and work together with us to maintain this wonderful corporate asset and grow it further.
I would like to once again welcome you to Kuraray and hope these words of encouragement will guide you in your new career.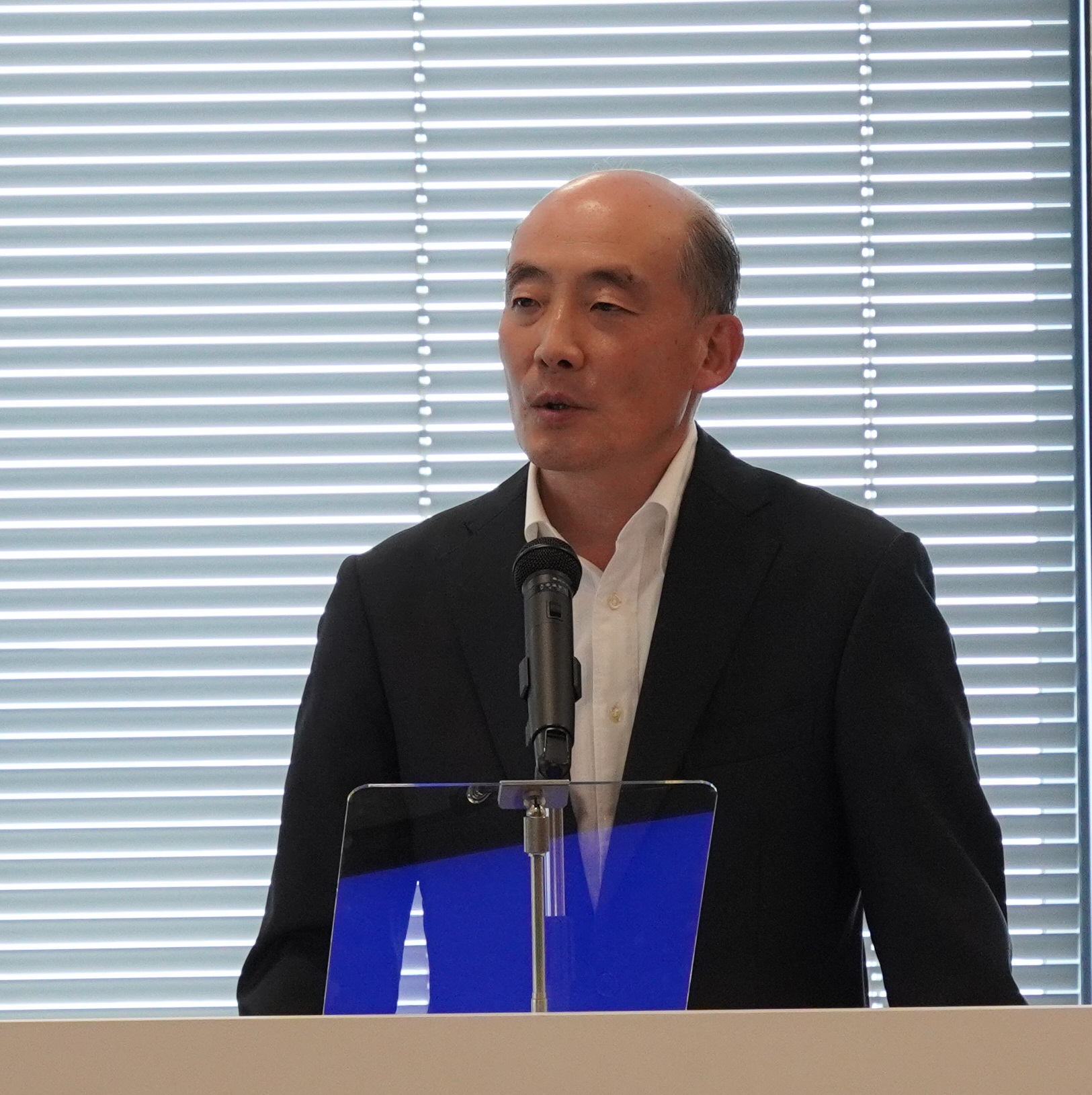 President and Representative Director Hitoshi Kawahara