Kuraray Co., Ltd. (Headquarters: Chiyoda-ku, Tokyo; President: Fumio Ito), through joint research with the National Institute of Advanced Industrial Science and Technology ((AIST);Headquarters: Chiyoda-ku, Tokyo; President: Ryoji Chubachi), has developed high-durability encapsulant polyvinyl butyral (PVB) films that help to make photovoltaic(PV) modules lighter and less expensive, and has begun sampling them in test markets.
Background for Development
With the recent rise in demand for renewable energy, there has been a sudden increase in the installation of PV panels on residences and the construction of large-scale solar power plants, causing demand for PV modules and their components to also expand.
For PV modules, demand is rising for improved reliability in harsh environments, lower installation burdens and better usability through lighter designs, as well as reductions in cost.
Amid these circumstances, we developed a high-strength, high-durability PV module encapsulant PVB film that can reduce costs and weight by simplifying PV module structure.
* Encapsulants for PV modules are materials used to encase or cover electrodes, wires and other (interior) components as well as the PV cells that generate electricity. They play the important role of protecting the interior from water and shocks while helping to keep output from degrading due to breakage and age.
Features
High encapsulant performance, eliminating the need for using edge seals on the PV module to help stop water from leaking inside.
Because of PVB's high modulus, the weight of the load is decreased, flexure in the glass is reduced, and the module's strength is maintained.
We were able to forgo the use of module edge seals as well as the frames and supports previously used to augment the module's strength due to features 1 and 2, thereby reducing costs thanks to the simpler and lighter design.
Superior long-lasting durability that doesn't degrade with age unlike current encapsulant materials.
New PVB film is highly resistant to Potential Induced Degradation (PID) which has become a more prominent concern recently.
Kuraray schedules to present the aforementioned product with Kuraray Europe GmbH and AIST at the 28th European Photovoltaic Solar Energy Conference and Exhibition held in Paris, France, between September 30 and October 4.
Kuraray strives to make modules lighter and less expensive with this newly developed encapsulant, and will work to further expand and popularize PV panel usage.
Reference 1:
The structure of CIGS thin-film PV modules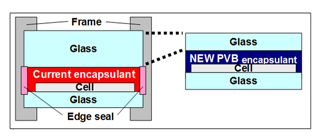 Left: Structure using existing encapsulants, Right: Structure using the new PVB encapsulant
Reference 2:
Damp heat test of a-Si thin film PV modules according to IEC61646 (tested in joint research with Research Center for Photovoltaic Technologies, AIST by the "Consortium Study on Fabrication and Characterization of Solar Cell Modules with Long Life and High Reliability"). The module using this new PVB film had no degradation after 10,000 hours.