In a continuation of its corporate advertising campaign, Kuraray will air the newest episode "Bus Outing" in its TV commercial series on Saturday, December 29, 2012.
In this episode, the mysterious being Kuraray-Maru explains the meaning of the new keyword "Chikyu Kai Kai," which first appeared in the previous episode. "Chikyu Kai Kai," is an abbreviation of the new Japanese catchphrase of Kuraray's Mirabakesso corporate commercial campaign; "Chikyu Mondai no Kaiketsu ni Idomu Kaisha," or in English, a company that takes on the challenge of solving global problems. This concept expresses Kuraray's intention to use its pioneering chemical technologies to address such planetary issues as global warming and limited natural resources.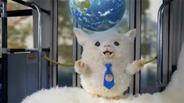 Also, Riko Narumi, who has become an indispensable figure in Kuraray's TV commercials, again appears in the new episode along with the alpaca Kuraray-Chan. Together with Kuraray-Maru, they communicate Kuraray's unique worldview.
1. Summary of the TV Commercial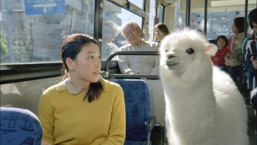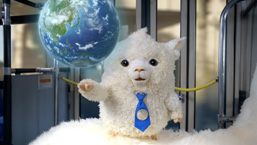 Title
Kuraray Corporate Commercial "Bus Outing," running as 15-and 30-second spots
Start of Broadcast
December 29, 2012 (Saturday)
TV Commercial Storyline
Traveling as a passenger on a bus, Riko Narumi murmurs: "Wow, what a surprise. Kuraray, so you're 'Chikyu Kai Kai'..."
Suddenly, Kuraray-Maru appears. Climbing onto Kuraray-Chan's back, it confidently declares. "Yes, Kuraray is a company that solves global-scale challenges!"
"That's amazing!" Although Riko's eyes seem to shine with great interest, she is quick to speak, saying sharply, "Although you don't look it." Shocked by her words, Kuraray-Maru unintentionally falls.
But then, Riko takes a gentle tone, comforting Kuraray-Maru and insisting, "Sorry I was joking!"
The bus is thus free to go on, carrying the three onward.
Characteristics of Kuraray-Maru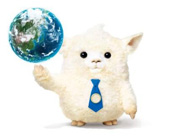 Approximately 38 cm tall, Kuraray-Maru is covered in fluffy fur and has a face that is similar to that of the alpaca Kuraray-Chan. Kuraray-Maru has two special talents: finding solutions to global problems and calling up a small model of the Earth that floats in the air as it strikes its distinctive "Kai Kai pose."
Broadcast Schedule
(1)

TV programming (nationwide)

"Gaia no Yoake" (Dawn of Gaia)(documentary program on economic subjects, broadcast in affiliation with TV Tokyo Corporation from 10:00 p.m. to 10:54 p.m. every Tuesday)
(2)

Commercial Airing Locations

Kanto, Kansai, Niigata, Okayama, Kagawa, Ehime, Nagoya, Fukui (Japan)
Saturday, December 29, 2012 -Saturday, January 19, 2013
Production Staff
Production Company : LIGHT PUBLICITY CO., LTD.
Creative Director : Nobuyuki Miyadera
Director : Yoshinari Kamiya
TV Commercial Concept Developed by the Production Staff

As Kuraray is marking the sixth year of this corporate advertising campaign in 2012, the production staff planned the new commercial with the idea of promoting understanding of Kuraray as a company that takes on the challenge of solving global problems. Kuraray is promoting a positive corporate image as a company able to address such planetary issues as global warming and limited natural resources with the memorable keyword, "Chikyu Kai Kai." Riko Narumi and the alpaca Kuraray-Chan continue to appear on these commercials. Together with the mysterious Kuraray-Maru, they communicate Kuraray's unique worldview.
2. Behind the Scenes
The commercial was shot in Yokohama City, Kanagawa Prefecture, in mid November. During the shooting, the staff found extra motivation in the fact that a real bus was used. As in the previous episode, a female alpaca named Milky-Chan played Kuraray-Chan. Milky has been a star from the time of her birth, which was broadcast on a Japanese television show.
Also, a mysterious being, newly dubbed "Kuraray-Maru," was featured again. Its name was chosen through a naming campaign that was open to public. The winning submission came from a first-year junior high school girl, who was invited to attend the shoots. She was given a life-size stuffed Kuraray-Maru by Riko Narumi and wore a big smile. Going forward with its new, pleasing name, Kuraray-Maru will increasingly be used to disseminate Kuraray's message "becoming a company that takes on the challenge of solving global problems" as a unique messenger.
Of course, the theme of the episode is unmistakable. In particular, Riko Narumi gave realistic performance that commanded everyone's attention. During the dialogue with Kuraray-Maru, after displaying escalating curiosity, her face reverts to a sober expression. The fast change between these two vastly different facial expressions, which is utterly impressive, accentuates the comedy of the situation.
Following in the wake of a series of Mirabakesso corporate commercials, this newest episode is full of humor.
3. Profile of Riko Narumi

Riko Narumi was born on August 18, 1992 in Yokohama City, Kanagawa Prefecture. Her hobbies are playing the piano and sanshin. She was cast in her first leading role in the drama Ruri no Shima in 2005. Her latest film is Bungo: Sasayaka na yokubo, which was released on September 29, 2012. In addition, her latest and much-anticipated photo book RICO DAYS (Wani Books Co., Ltd.)was released on August 18, 2012. She also played Shigeko in NHK's historical "Taiga" drama series, Taira no Kiyomori.
4. About Alpacas
The sixth alpaca to play Kuraray-Chan, Milky was born on October 19, 2011.
Found mainly in South America, alpacas belong to the camel family and have been domesticated since the time of the ancient Incan Empire. They live on grass and moss and grow to reach approximately 2 meters in height and 50 kg in weight. Though hard to imagine from their cute, unique appearance that stays in one's mind after just one glance, they are very cautious and shy.
5. Purpose of the Ad Campaign
Kuraray was established in 1926 in Kurashiki City, Okayama Prefecture, as a manufacturer of rayon synthetic fiber. Since succeeding in the commercialization of Japan's first PVA fiber, KURALON, based on technologies developed domestically, Kuraray has utilized the technology for poval, the material used in creating KURALON, to become a company that currently boasts the world's largest market share for a number of highly functional materials developed using its own, original technology. These materials include: poval film, which is essential for LCDs used in televisions and PCs; EVAL, a resin distinguished by its excellent gas barrier properties; CLARINO, a type of manmade leather used in school bags and other applications; and SEPTON, an advanced hydrogenated styrene-type thermoplastic elastomer with an elasticity similar to rubber.
In line with its corporate culture of "contributing to the world and individual well-being through actions that others are unable to produce," the Kuraray Group works to "contribute to the solution of issues threatening our planet and living things with pioneering technology" while aiming to realize sustainable growth as a "specialty chemical company with a global presence."
This corporate advertising campaign revolving around the television commercials has been conducted to support future growth and boost Kuraray's corporate brand value.
In addition to Mirabakesso ("Mirai ni Bakeru Shinsozai" or in English, new materials that transform into the future), in the current fiscal year Kuraray established the new catchphrase: "Chikyu Mondai no Kaiketsu ni Idomu Kaisha" (a company that takes on the challenge of solving global problems). This catchphrase expresses the Kuraray Group's intention to provide effective solutions through pioneering technology for such current planetary problems as global warming, limited natural resources, water and food shortages, and environmental pollution.
Kuraray will continue to take on the challenge of creating new solutions in the water/environment, energy and optical/electronics fields.
Overview of Kuraray Co., Ltd.
| | |
| --- | --- |
| President | Fumio Ito |
| Headquarters | 1-1-3, Otemachi, Chiyoda-ku, Tokyo, Japan |
| Principal businesses | Manufacture and sale of resins, chemicals, fibers and other items |
| Capital | ¥89.0 billion (as of March 31, 2012) |
| Consolidated number of employees | 6,776 (as of March 31, 2012) |
| Consolidated net sales | ¥369.0 billion (fiscal year ended March 31, 2012) |
| Consolidated operating income | ¥54.7 billion (fiscal year ended March 31, 2012) |