Each year, Kuraray Co., Ltd. produces a popular, user-friendly calendar that focuses on an aspect of nature as its theme. Since its founding, the Kuraray Group has embraced the pioneering spirit–the spirit that has continually been an integral part of its approach as it looks toward the future and determines what it must do to contribute to a prosperous tomorrow. This approach applies even to the Kuraray Group calendars. In this spirit, we search out promising up-and-coming photographers to support by featuring their work.
1. Calendar Features
(1)

Each month features a photograph of a natural landscape in keeping with the theme "stroll across the earth," along with a brief explanation from Takezawa of the story behind the shooting of the photograph. The last page features thumbnail views of the photographs for each month.

(2)

This 14-page calendar comprises seven sheets of paper printed on both sides and is 52cm long x 36cm wide when fully opened. The calendar folds in half for delivery, making it compact, and double-sided printing was used to conserve paper resources.

(3)

The date boxes provide ample space for writing appointments and notes. Also, the characters used for the dates are clear and large so that they can be easily read from a distance.

(4)

The overall design is practical and functional while also being decorative and user-friendly.
Page design and explanation sample

Reference Materials
1.Profile of Uruma Takezawa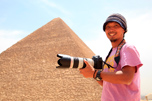 After working as a staff photographer at a publishing company, he started work as an independent photographer in 2004, launching URUMA Photo Office and taking on numerous assignments for magazines and advertisements. So far, he has visited and taken pictures in over fifty and regions. He has gone on more than 150 overseas photo sessions. His area of specialty is nature around the world. Right now, he is in the midst of another of his around-the-world trips. His name "Uruma" means "an island surrounded by coral" in Okinawa dialect.
2.Photos of "Discovering the Earth" by month
| | Location |
| --- | --- |
| Jan | Tupai, French Polynesia |
| Feb | Ausangate, Peru |
| Mar | Cinque Terre, Italy |
| Apr | Pantanal, Brazil |
| May | Nosy Be, Madagascar |
| Jun | Yakushima, Japan |
| Jul | Arambol, India |
| Aug | Pantanal, Brazil |
| Sep | Millaa Millaa falls, Australia |
| Oct | Chinguetti, Mauritania |
| Nov | Monument Valley, U.S.A. |
| Dec | Antarctic Peninsula, Antarctica |
3.Pages from "Discovering the Earth"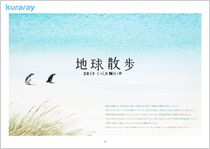 Cover

January

February