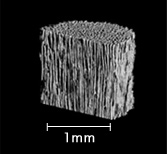 μ X-Ray CT scan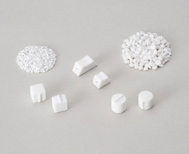 Artificial Bone
Kuraray Medical Inc. (a wholly owned subsidiary of Kuraray Co., Ltd., Head Office: Chiyoda-ku, Tokyo) announces that it has obtained approval under the Pharmaceutical Affairs Law to manufacture and market its artificial bone graft medical devices.
A artificial bone graft is a product used for medical treatment should a bone transplant become necessary as a result of disease or injury. There are three types of bone transplants:
An autologous bone graft whereby a portion of a bone is taken from and transplanted within the same body.
Those from donor individuals to separate recipients.
Those involving a supplemental element made using a artificial bone graft.
At present, autologous bone grafts are the predominant type of bone transplant in Japan. However, this requires healthy bone to be cut away from the patient's own body. Kuraray Medical thus aimed to develop the third type, a artificial bone graft that could replace autologous bone grafts.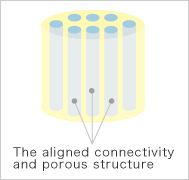 Pattern diagrams
Kuraray Medical developed the new bone grafts in collaboration with the Ceramic Biomaterial Group, Biomaterials Center, National Institute for Materials Science and the Department of Orthopedics, Institute of Clinical Medicine, The University of Tsukuba. Made of hydroxylapatite, the chief component of living bone, the aligned connectivity and porous structure of this product are conducive to binding together with surrounding bone and supplementing bone growth into the internal portion of the graft.
This product will be available nationwide following limited sales at selected medical facilities. Kuraray Medical is positioning this product as a cornerstone of its efforts to develop the artificial bone graft market.
Structural features of artificial bones
Porous structure allows easy ingrowth by living tissue

By volume, 75% of the overall artificial bone consists of pores, and over 55% of the total artificial bone is comprised of pores larger than 30 μ m. In this way, blood and other body fluids quickly penetrate into the internal areas. In addition, permeation by bone cells and new growth of capillaries are anticipated to support bone regeneration.
Product overview
Classification
High-level controlled medical device (Class Ⅲ)
General name
Artificial bone graft
Medical device
approval number
22100BZX00818000
Manufacturing and sales
Kuraray Medical Inc.
Type
Configured product (cubic, cylindrical, spacer type), granular
Reference
Kuraray Medical Inc. Corporate Profile

| | |
| --- | --- |
| President | Sadaaki Matsuyama |
| Head office | Ote Center Building, 1-1-3, Otemachi, Chiyoda-ku, Tokyo |
| Paid-in capital | ¥300 million (100% owned by Kuraray Co., Ltd.) |
| Business activities | Manufacturing, development and sales of medical-related products |