The content of this news release has been revised (September 7, 2009).
That news release is available here.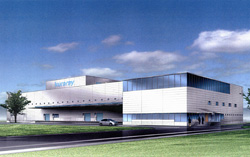 A new plant of dental materials (rendering)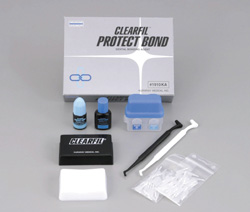 CLEARFIL Protect Bond
The Kuraray Group company, Kuraray Medical Inc. (a wholly owned subsidiary of Kuraray Co. Ltd., Head Office: Chiyoda-ku, Tokyo) has decided to construct a new dental materials production facility within the Kuraray Kurashiki Plant.
Focusing its business operations on the development of dental materials that contribute to a more sophisticated level of dental care, Kuraray Medical develops products in the following three areas: (1) filling composite resins that achieve solid restoration and have an appearance very similar to natural teeth; (2) bond that adheres to filling material and teeth; (3) cement that fills in the space between crowns and teeth, adhering to both surfaces. Having introduced the CLEARFIL BOND SYSTEM F to the market in 1978, Kuraray Medical boasts thirty years of experience in the dental field and has acquired the top share of the Japanese composite resin and bond market. In addition, it is expanding its sales channels abroad, and its ratio of overseas net sales currently exceeds 60%.
Due to efforts to keep pace with growing worldwide demand well into the future, Kuraray Medical's existing production facilities have reached their limit in terms of capability and efficiency. Based on these circumstances, existing facilities are to be upgraded into state-of-the-art plants by using the scrap and build method. Kuraray Medical intends to achieve following aims:
1.

Bolster capability in order to keep pace with worldwide market expansion

2.

Advanced uniform product control through the use of the latest production technology

3.

Reduce labor costs and increase efficiency through the introduction of automation
The new production facility will be constructed within the Kurashiki Plant facilities located in Tamashima-Otoshima, Kurashiki City.
In 2005, Kuraray moved forward with its plans to consolidate the Kurashiki Plant's development and production functions-distributed between facilities in Sakazu and Tamashima-within the Tamashima plant. The new plant is one element in Kuraray's efforts to improve business operation efficiency by sharing the indirect service functions and utilities of the Kurashiki Plant.
Overview of the new plant
Location
Kurashiki Plant, Kuraray Co., Ltd., 7471 Tamashima-Otoshima, Kurashiki City
(Current facilities: Kurashiki Plant (Sakazu), Kuraray Co., Ltd., 1621 Sakazu, Kurashiki City)
Plant Capacity
1,100,000 sets per year (current: 900,000 sets per year)

*

Augmentable to 1,500,000 sets per year due to the relocation of equipment from existing plant

Facility scale
three-story building, total floor space 9,800m²
Capital investment
¥5.5 billion approx.
Timetable
Completion of facility expansion expected in October 2010, commencing with trial operations and quality verification
Commencing full operations in October 2011
Overview of Kuraray Medical Inc.
| | |
| --- | --- |
| Headquarters | Chiyoda-ku, Tokyo |
| President | Sadaaki Matsuyama |
| Capital | ¥300 million (100% Kuraray capital investment) |
| Number of employees | 270 approx. |
| Business activities | production and sale of medical-related products, including dental materials |