The 9th Eco-Products 2007 - Eco Style Fair for the Globe and for the People - is one of Japan's largest environmental fairs. Kuraray participated for the duration of the event that took place at Tokyo Big Sight in Tokyo's Koto Ward from December 13 through December 15, 2007.
As one of the largest environmental exhibitions in Japan, the fair presents the ideal opportunity for companies to disseminate and exchange ideas regarding environmental technology and solutions, promote and promulgate environmentally friendly products and services, as well as showcase their efforts toward environmental conservation.
In terms of scale, this year's event turned out to be the largest ever in the fair's history, with a total of 632 exhibitors and 164,903 attendees over the three-day period.
Thank you to the 2,700 people who participated in the "Quiz Rally" at the Kuraray booth and took the time to develop a deeper understanding of our Company's products.
The theme of the Kuraray eco product exhibit was the Group concept of "Ecology Made Possible through Advanced Precision," and was particularly guided by the key phrase for the future "Advanced Precision." This concept presents/embodies Kuraray's shift toward providing unique, high-quality, lightweight materials that demonstrate high functionality even when used in minimal quantities.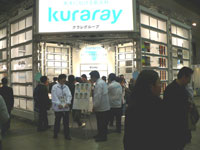 Kuraray booth entrance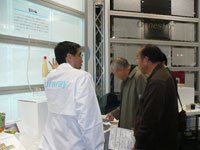 Kuraray staff on hand to explain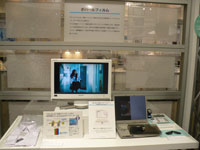 Poval film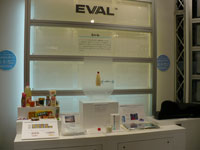 EVAL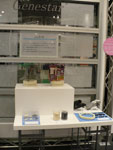 GENESTAR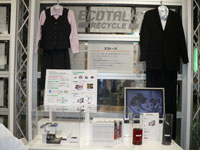 The System for Recycling Fiber and
Textile Waste as Resources
Material-Themed Exhibits
Products
Product Characteristics

EVAL

Food packaging and containers
A minimal amount of material goes a long way to preserve food products over extended time periods. Improved preservation helps conserve natural resources as does the lighter weight of the product with regard to energy expended on transport
FRC

KURALON

Cement roof tiles
A minimal amount is sufficient to reinforce and strengthen cement. This thinner, lighter weight product thus helps reduce energy expended on transport.
Poval film
LCDs
Essential to LCD production, this material enables thinner and wider energy-saving LCDs.

GENESTAR

PC circuit boards
This heat-resistant product is experiencing growth in sales on the back of circuit board surface mounting popularization and lead-free processing trends.
Activated carbon
Capacitors and air-purification systems
Used not only as a conventional air and water purifier but also as a high-functioning capacitor electrode material for fuel-cell vehicles.
Business-Themed Exhibits
Products
Product Characteristics
Kuraray Plastics Co., Ltd.
Heat shield tarpaulin
By aiding in temperature control this product helps save electricity and thus reduce CO2 emissions
Biomass shoes
Shoes made with carbon neutral polylactic acid resin
Kuraray Trading Co., Ltd.
Recycling Textile Waste as Resources
Chemical recycling system
Kuraray Fastening Co., Ltd.

NEW ECOMAGIC

hook-and-loop fasteners
Eco-friendly product
(Kuraray is replacing all hook-and-loop fasteners with this eco-friendly variety, a shift planned for completion in fiscal 2009)
Kuraray Co., Ltd.,
Clarino Division

CLARINO TIRRENINA

man-made leather
This leather is manufactured using an innovative new process without the use of organic solvents.
Kuaray Co., Ltd.,
New Business Development Division, Environmental Business Promotion Group
Wastewater treatment system
This new wastewater treatment system virtually eliminates organic sludge generation completely.
| | |
| --- | --- |
| Name | 9th Eco-Products 2007-Eco Style Fair for the Globe and for the People |
| Place | Tokyo Big Sight (Koto Ward) East Exhibition Hall, Hall 1, 2, 3, 4, 5 |
| Organized by | Japan Environmental Management Association for Industry (JEMAI), Nikkei Inc. |