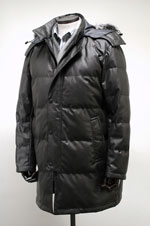 Kuraray Co., Ltd. (Headquarters: Chiyoda-ku, Tokyo; President: Yasuaki Wakui; "Kuraray") and Renown Incorporated (Headquarters: Shinagawa-ku; President: Yasuhisa Oka; "Renown") announce that Renown will commence sales of down coats featuring AMARETTA Z, a luxury man-made leather jointly developed by the two companies, through Renown outlets. To be marketed under Renown's leading menswear brand D'URBAN, sales will begin at all of the roughly 140 stores that carry the brand from the end of October.
Sales of D'URBAN down coat featuring jointly developed AMARETTA Z material
Man-made leathers used for fashion clothing mainly comprise "raised nap" suede and nubuck due to the difficulty in duplicating the unique texture of natural leather materials.
It has taken the two years since 2005 for Kuraray's high technological prowess and Renown / D'URBAN's commitment to fashion to jointly develop and bring to fruition a material with a texture that is closer to that of natural leather.
Possessing a three-dimensional structure just like that of natural leather, AMARETTA Z has a surface finish that replicates the crinkled crepe look of natural calf skin thanks to a unique surface treatment of an ultrafine-microfiber nonwoven fabric. This natural-looking surface finish so close in appearance to natural leather was realized by applying color shading to the fabric's surface. AMARETTA Z man-made leather's special characteristics include its high-quality, soft-to-the-touch finish, its light weight (about 30% lighter than natural leather) and its easy-care features. Following the completion of its development, this new high-quality finish man-made leather found an application and is now planned for marketing as the latest D'URBAN down coat.
AMARETTA Z

's Main Characteristics
(1)

Natural surface feel and texture close to those of natural leather
Takes advantage of Kuraray's proprietary finishing methods based on three-dimensional structure that mimics natural leather
Replicates a surface finish similar to the crinkled crepe look characteristic of natural calf skin
Realizes a natural-looking surface finish with color shading created on the fabric's surface
(2)

Light weight

About 30% lighter than natural leather
(3)

Easy-care features
Difficult to crease
Highly rain repellent
Does not attract dirt
Dry-cleanable using standard cleaning processes
Brand Information
The D'URBAN brand has consistently offered Japanese business style since debuting in 1971. D'URBAN has endeavored to further develop as Japan's leading world-class brand.
D'URBAN is a total style brand that appeals to sophisticated modern consumers in its targeted "Just 40" age-group through its Contemporary Urban Style concept. In addition to suits, the mainstay of its lineup, D'URBAN is continuing to position seasonal items, such as coats for fall / winter 2007, that offer fashion in ways that symbolize the season.
Product Information
D'URBAN Hooded Down Coat
Sales
At all of the roughly 140 department stores carrying the D'URBAN brand from the end of October
Price
¥99,750 (incl. tax)
Colors
Two: Black, dark brown
Sizes
Four: S, M, L, LL
Material

AMARETTA Z

man-made leather
Design
Half-length
Silver fox fur trimming on hood
Hang tags
An explanatory

AMARETTA Z

hang tag as well as a D'URBAN brand tag will be attached to the product.
Additional Information
As man-made leather can be mistaken for synthetic leather, information is provided below. In addition, an explanation of natural leather is included.
Natural leather
For finished natural leather-typically cowhide, goatskin or sheepskin-the outer surface of the skin is used and pressed by processing (finishing). To create the raised nap of finished suede, the reverse, inner side of the skin is used.
The unique characteristics of natural leather are that is non-uniform with flaws and uneven colors and retains its moisture-absorbing qualities while offering a cozy feeling and pleasant texture. Compared with man-made and synthetic varieties, natural leather is expensive and its care takes time and money.
Man-made leather
Consisting of a special nonwoven ultrafine-microfiber fabric and impregnated with a polyurethane resin, man-made leather is a material featuring raised nap (suede) or grain finishes.
Synthetic leather
A woven fabric coated with a polyurethane resin etc, synthetic leather is usually finished to resemble grain type leather.