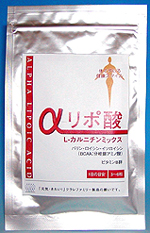 Kuraray Family Products Co., Ltd. (Headquarters: Osaka; President: Yoshikazu Takamoto), which markets health foods and cosmetics, has commercialized a new dietary supplement combining alpha lipoic acid and L-carnitine. The new product will go on sale under the name Alpha Lipoic Acid / L-Carnitine Mix on August 5 in Japan. (90 tablets for ¥2,940, including tax.)
This dietary supplement will support the efforts of people wishing to improve their physique, combat middle-age spread or abdominal fat, or maintain the natural beauty of their skin, or who are concerned about free radicals and toxins.
The popularity of alpha lipoic acid as a health supplement is today on a par with that of coenzyme Q10. It was originally considered a pharmaceutical substance, but was approved as a food in the spring of 2004. The principal reasons for its popularity are:
(1)

It is a fat-burner that aids in weight loss.

(2)

It is an antioxidant that eliminates free radicals, helping to preserve the beauty of the skin.

(3)

It is a detoxifier that adsorbs mercury, lead, and other harmful minerals, allowing them to be eliminated from the body.
The fat-burning power of Alpha Lipoic Acid / L-Carnitine Mix is heightened by the presence of L-carnitine, which is a fat-burner in its own right, and amino acids with fat-burning properties, including valine, leucine, isoleucine, and the vitamin B complex.
Alpha Lipoic Acid/L-Carnitine Mix
1.

Product name

Alpha Lipoic Acid/L-Carnitine Mix

2.

Package quantity

24.3g (90 tablets of 270mg)

3.

Recommended usage

One to two tablets three times a day, for a total of three to six tablets per day, taken with hot or cold water

4.

Principal active ingredients

per 270mg tablet

Alpha lipoic acid
10mg
L-carnitine
3mg
Mixed amino acids
(valine, leucine, isoleucine)
10mg
Niacin
2.5mg
Vitamin B1
1mg

5.

Suggested retail price

¥2,940 (including tax) for 90 tablets

6.

Marketing channels

Membership sales, mail-order