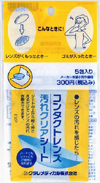 Kuraray Medical Inc. (a wholly owned subsidiary of Kuraray Co., Ltd.; Head office: Chiyoda-ku, Tokyo) has unveiled a new disposable type of contact lens care product called Contact Lens Cleaning Sheet. On May 17, the new product will go on sale first at Lawson convenience stores around the country (some stores may not carry the new product), and then be available from June at stores that handle contact lenses, other convenience stores and drug stores throughout Japan.
Contact Lens Cleaning Sheet is a new type of product that wipes deposits from contact lenses. The sheet is made with Kuraray's wet, non-woven fabric Silhorn-W, which uses the bicomponent microfiber WRAMP, to remove deposits more effectively than hand rubbing. The sheet is not bulky, making them easy to carry, and easily remove deposits from contact lenses only by squeezing them lightly four or five times. Individually packaged, the sheet is kept clean until opened, making them ideal for removing deposits from contact lenses during an emergency or during sports events, out on business, on vacation, when traveling and when out and about.
Contact lenses are widely used by young people and women as vision correction aids in Japan. Recently, all-in-one type contact lens care products for both soft and hard contact lenses have become mainstream, making them simpler to use, but many people are troubled by dirty lenses. When we conducted a survey about contact lens care, respondents said that it was difficult to remove deposits from their contact lenses, and that bottled lens care goods were bulky and inconvenient to carry around. As a contact lens manufacturer and in response to these customer opinions, we developed the Contact Lens Cleaning Sheet to be convenient and to effectively remove deposits.
Features of Contact Lens Cleaning Sheet
(1)

Originality

A completely new type of product never before seen

(2)

Portability

Light and slim sheet, making them easy to carry

(3)

Easy to use

Deposits is removed with 4-5 light squeezes of the sheet on the contact lens

(4)

Sanitary

Individually packaged for cleanliness until opened

(5)

Usability

Can be used on all contact lenses except one-day disposables
Product Description
(1)

Specifications

Five per package (non-woven fabric sheet size: 100mm × 80mm)
(Order unit: 100 packages per box)

(2)

Materials Used

Nonwoven fabric sheet Silhorn-W that use the bicomponent microfiber WRAMP (65% polyester / 35% nylon)

(3)

Suggested Retail Price (Incl. Tax)

¥300 per package

(4)

Sales Source

Kuraray Medical Inc.

(5)

Sales Targets

One million packages in its first fiscal year
How to Use
(1)

Wash your hands before handling contact lenses.

(2)

Take one sheet from the package and open it in the palm of your hand.

(3)

After removing the contact lens from your eye, place it on the sheet after checking the front and back, and fold the sheet over.

(4)

Lightly squeeze the contact lens while in the sheet four or five times to remove deposits.

(5)

Open the sheet, and put in your contact lens the right way after making sure both sides are free of deposits (put in hard contact lenses after removing deposits with the sheet and rinsing with water).