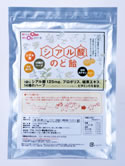 Kuraray Family Products Co., Ltd. (Headquarters: Osaka; President: Yoshikazu Takamoto), which markets a range of health foods and cosmetics, has announced that it will commence the sale of Sialic Acid Throat Lozenges on February 1, 2005. In addition to sialic acid, a health substancederived from milk, Sialic Acid Throat Lozenges include vitamin C, propolis, green tea extract and a total of 14 herbs including psidiumguajava and peppermint.
Sialic acid is found in the milk protein of mothers' milk, swallows' nests used as ingredients in Chinese cuisine, and other sources. It is also present on the surface of human cells and in human saliva.
Sialic acid easily binds foreign substances on cell surfaces. Generally, foreign substances bind to the antenna of cell surface sialic acid, and from there penetrate the cell. On the other hand sialic acid ingested in mothers' milk or from other sources has a side chain antenna very like that found in cell surface sialic acid. Therefore, it binds with foreign substances in the same way, allowing them to be excreted from the body.
Kuraray Family Products made use of this function in developing this new product, which means that Sialic Acid Throat Lozenges are healthful as well as delicious. This product is intended for people with colds or irritated throats, or who just want the refreshing sensation the lozenges offer.
Product Description
1.

Product name

Sialic Acid Throat Lozenges

2.

Contents of package

100 grams (25 lozenges of 4 grams each)

3.

Recommended use

1 to 5 lozenges per day.
Because food and drink will carry sialic acid away from the throat, use after meals. Use when in crowds.

4.

Principal nutritional ingredients

per 4-gram lozenge

| | |
| --- | --- |
| Calories | 16Kcal |
| Protein | 20mg |
| Fat | 70mg |
| Carbohydrates | 3.83g |
| Natrium | 400mg |
| Vitamin C | 1.2mg |
| Sialic acid | 5mg |

5.

Suggested retail price

¥840 per package of 25 (Including consumption tax)