As a continuation of its corporate advertising campaign, Kuraray has launched a "Mirabakesso" website that is accessible via mobile phones.
Up until now, it had been Kuraray's goal to have people who had seen Kuraray's TV commercials and become interested in the Company gain a deeper understanding of Kuraray with visits to the Company website via PCs. However, in recognition of the increasing number of people, primarily the younger generation, who use their mobile phones rather than PCs to conduct Internet searches, Kuraray made the decision to launch its "Mirabakesso" mobile site so that such users can visit the site from wherever and whenever the mood takes them.

In addition to delivering commercials, streaming animated content and messages from Kuraray's employment team in the human resource department, the site offers cute "Kuraray-Chan Standby Flash" presents.
Please be sure to access the "Mirabakesso" mobile site using the quick response (QR) code (right).
URL: http://mirabakesso-mobile.jp/ (Japanese only)
Menu as it appears on the Mirabakesso mobile site: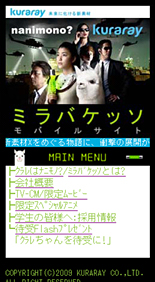 Mirabakesso Mobile Site Homepage
What is Kuraray? What does "Mirabakesso" mean?
Corporate Overview
TV commercials/Web-only movies
Special Web-only animation
Employment Info/Calling All Students
Standby Flash Present
"To Where Kuraray-Chan Awaits You!"
For more details about the new version of the Mirabakesso TV commercial series that Kuraray has been broadcasting since December 26 (Saturday), please visit:
http://www.kuraray.co.jp/en/news/2009/091224
Note: Mirabakesso is derived from the campaign phrase "Mirai ni Bakeru Shinsozai," which can be literally translated as "new materials that transform into the future."