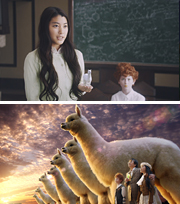 As a continuation of its corporate advertising campaign, Kuraray will air new versions of the "Mirabakesso" (see Note) TV commercial series on Saturday, December 26, 2009.
Actress Riko Narumi and the intriguing alpaca will appear again in these commercials. By building on the story following the previous "Who is Kuraray?" episode, these new episodes will seek to help viewers understand that Kuraray is a "chemicals manufacturer committed to contributing to the future."
In line with these new commercials, Kuraray has prepared a Web-only special movie, entitled "The True 2nd Episode Uncovered," to allow Internet users to enjoy the view of the world created by the series of TV commercials. To view the special movie, please visit the Company's ad campaign site at http://www.mirabakesso.jp/. (Japanese only)
Note: Derived from the campaign phrase "Mirai ni Bakeru Shinsozai" which can be literally translated as "new materials that transform into the future"
1. Summary of the TV Commercials
Title
Kuraray Corporate Commercials "Riko and the Child Genius" and "Happily Ever After?" Both episodes run for 15 seconds
Start of Broadcast
December 26, 2009 (Saturday)
Broadcast Schedule
(1)

TV Programming (Nationwide)
(2)

Commercial Spot Airing Locations

Kanto, Kansai, Niigata, Okayama, Kagawa, Ehime (Japan)
Saturday, December 26, 2009 – Sunday, January 31, 2010
TV Commercial Storylines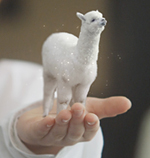 Palm-sized Kuraray-Chan
"Riko and the Child Genius" Episode

Agents of a mysterious organization seize Material X, and Riko's father—a world-renowned chemist who developed Material X—has been abducted by them.
Riko is left alone with her heart broken. Riko questions, "What on earth is chemistry for?" A word of wisdom is delivered to this devastated girl. Who is trying to encourage her? It is a child genius who says, "Chemistry is for future transformation.
With the help of the child genius and her pet—a palm-sized Kuraray-Chan—Riko makes up her mind to fight against the organization, just to win back a peaceful future.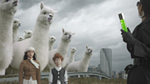 Troop of giant Kuraray-Chans
"Happily Ever After?" Episode

Everybody ends up on the stage for the final showdown.
Riko, the child genius and Kuraray-Chan stand together against agents of the mysterious organization.
Riko's father is there, too, breathless and tormented. Material X gives off a mysterious shimmering.
When Riko and the child genius together cast the spell, "Mirabakesso," the palm-sized Kuraray-Chan grows to an enormous size and also multiplies itself. A troop of giant Kuraray-Chans makes a wholesale arrest of the agents.
Riko gets back her one and only father and Material X. Finally, the curtain comes down on the Material X story.
Production Staff
Production Company:LIGHT PUBLICITY CO., LTD.
Creative Director:Nobuyuki Miyadera
Director:Makoto Sayama
TV Commercial Concept Developed by the Production Staff

The year 2009 marked the third year of Kuraray's corporate ad campaign. As with the first two years of the ad campaign, we carried out the planning of the commercial with the aim of promoting the understanding that the Company is a "chemicals manufacturer committed to contributing to the future." The new episodes have been made to be even more dramatic than the previous episodes, again like a movie preview. Our focus was on developing the story more carefully and seriously. Following this basic concept, an attempt was made to effectively and strikingly convey an understanding of Kuraray by inserting phrases including "Mirabakesso,""manufacturer of new materials," "Kuraray" and "chemistry" in the lines of the characters appearing in the commercials.
2. Behind the Scenes
Filming took place in Tokyo at the beginning of November. The two new episodes—namely, "Riko and the Child Genius" and "Happily Ever After?"—serve as sequels to the previous "Who is Kuraray?" episode. A must-see in these episodes is Riko Narumi, who shone as an actress and did a wonderful job of acting the scenes. She earnestly portrayed her character Riko's sorrow and devastation after her father was abducted and Material X taken away. Also, in the scene where Riko stands up against the agents, she gave an astonishing performance with expressions of determination.
Nevertheless, the film crew had to be reminded that Riko Narumi is still only a teenager. It has been a while since she last saw Kuraray-Chan. She looked totally comfortable when she was putting her arms around fluffy Kuraray-Chan. After the filming was completed, the film crew gave her a present, a stuffed alpaca, which made her even more exultant.
Like the previous episode, giant Kuraray-Chan appears again in the new episodes. More surprisingly, however, the new episodes feature a super-small Kuraray-Chan. This mini Kuraray-Chan on Riko's palm and shoulder is the cutest thing. With these new episodes, the story of Material X, part of which is actually made up of a real Kuraray product called "PVA Gel," comes to a climax. By viewing a Web-only special movie, which is entitled "The True 2nd Episode Uncovered" and streamed on the Company's ad campaign site, the world created through the series of "Mirabakesso" TV commercials can be enjoyed even more.
3. Profile of Riko Narumi

Riko Narumi
Riko Narumi was born on August 18, 1992 in Yokohama City, Kanagawa Prefecture. She was cast in her first leading role in the drama "Ruri no Shima" in 2005. In 2007, she starred in a series of films including Shindo, Ashita no Watashi no Tsukurikata and Kimi ni shika Kikoenai. In a drama series titled Hachimitsu to Kuroba, which was aired in 2008, Ms. Narumi played the role of Hagumi Hanamoto. In 2009, she played leading roles in the film Tsumi toka Batsu toka directed by Keralino Sandorovich (real name: Kazumi Kobayashi) and Yamagata Scream directed by Naoto Takenaka, also scheduled to be released in 2009. In addition, she will play first starring role as a woman, in a series of Sakuya Konohana whitch is period play scheduled to air from January 2010 by NHK.
4. About Alpaca

Tarakey, the 2nd generation "Kuraray-Chan"
Alpacas are found mainly in South America. They have been domesticated since the time of the ancient Inca Empire. Alpacas live on grass and moss and grow to reach approximately 2 meters in height and 50 kg in weight. Though hard to imagine from their cute, unique appearance that stays in one's mind at just one glance, they are very cautious and shy.
5. Purpose of the Ad Campaign
Kuraray was established in 1926 in Kurashiki City, Okayama Prefecture as a manufacturer of rayon synthetic fiber. After succeeding in the commercialization of Japan's first PVA fiber, KURALON, based on technologies developed domestically, Kuraray has utilized the technology for poval, the material used in creating KURALON, to evolve into a specialty chemical company boasting the world's largest market share for many highly functional materials developed using the Company's own technology. These materials include: poval film, which is essential for LCDs used in televisions and PCs; EVAL, a resin distinguished by its excellent gas barrier properties; and CLARINO, a type of manmade leather used in school bags and other applications.
The Company currently aims to achieve sustained growth through the expansion of businesses providing solutions to global issues, such as wastewater treatment and reusable energy businesses utilizing the technologies accumulated to date.
This corporate advertising campaign revolving around the television commercials has been conducted to support future growth and boost Kuraray's corporate brand value.
The catchphrase, "Mirai ni Bakeru Shinsozai," was chosen for exactly this reason, which is to show Kuraray's focus on the future progress of both people and the organization. We also tried to create an analogy between the potential of new materials and the potential of youth.
Click the link below for the previous press release on the "Who is Kuraray?" episode.