Kuraray Co., Ltd. (Head Office: Chiyoda-ku, Tokyo; President: Hitoshi Kawahara; hereinafter "Kuraray" or the "Company") hereby announces that it will exhibit at K2022, the world's largest international plastics and rubber industry exhibition, to be held at Messe Düsseldorf, Germany, from October 19 to October 26, 2022.
Under the theme of co-creating a sustainable future through innovation, the "Innovation Networking Center"*1 (INC), newly established in January 2022, will showcase each segment (Paper & Packaging, Automotive, Sports & Outdoors and Life & Personal Care) and introduce distinctive Kuraray products, such as EVAL™, an ethylene vinyl alcohol polymer resin made from biomass-derived raw materials; thermoplastic FRP incorporating GENESTAR™, a heat-resistant polyamide resin; SEPTON™ BIO-series, a bio-based hydrogenated thermoplastic styrenic elastomer; liquid farnesene rubber (L-FR); and silane modified liquid butadiene rubber (GS-L-BR).
*1 A Kurary organization that aims to create innovation by linking internal and external resources. Eleven segment teams, including units focused on Paper & Packaging, Automotive, Sports & Outdoors and Life & Personal Care, have been established to accelerate collaboration between the Kuraray Group and its customers and partners for effective business creation.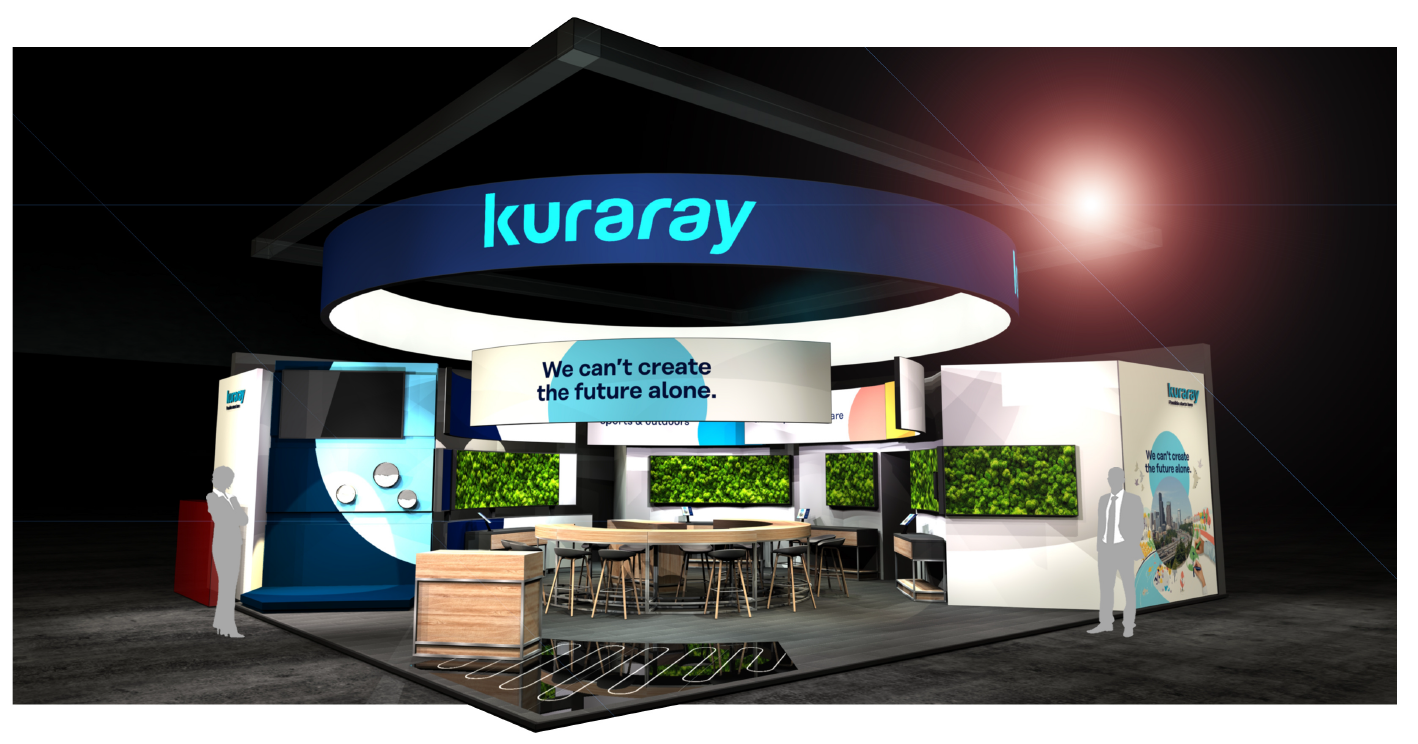 Image of the Kuraray Booth
ISCC PLUS Certification*2 for EVAL™, an EVOH Resin Made from Biomass-Derived Raw Materials
EVOH (ethylene vinyl alcohol) resins have the highest level of gas impermeability among plastics, and their excellent barrier properties contribute to extending food shelf life and reducing food loss. Kuraray will showcase EVAL™ at this exhibition, which is produced by wholly owned subsidiary EVAL Europe N.V. (located in Antwerp, Belgium), an ISCC PLUS certified subsidiary in Europe.
*2 International Sustainability and Carbon Certification (ISCC) is a global program focused on biomass-derived and recycled materials. ISCC PLUS certification is a certification system that manages and guarantees the supply chain for products made from biomass-derived or recycled raw materials manufactured using the mass balance method,*3 and covers products from all over the world, including those outside the EU.
*3 Products that contain biomass-derived or recycled raw materials and petroleum-derived raw materials can be touted as environmentally friendly by assigning their characteristics to the product according to the percentage of biomass-derived or recycled raw materials input.
Thermoplastic FRP with GENESTAR™ Heat-Resistant Polyamide Resin
GENESTAR™ is one of Kuraray's proprietary heat-resistant polyamide resins. It has excellent features, such as low water-absorbency, high heat-resistance, high chemical-resistance, superior mechanical properties and dimensional stability, and is increasingly used in electrical, electronic and automotive components. As an example of thermoplastic FRP development using GENESTAR™, a prototype of a high-pressure hydrogen tank for fuel cell vehicles (FCV) with excellent recyclability will be exhibited.
SEPTON™ BIO-series, Bio-Based Hydrogenated Thermoplastic Styrenic Elastomer
SEPTON™ BIO-series is a hydrogenated styrene-farnesene block copolymer made from β-farnesene, a new biomass-derived conjugated diene monomer produced from sugarcane using fermentation technology. It has excellent wet grip properties and is non-slip even when wet.
Liquid Farnesene Rubber (L-FR))
L-FR is Kuraray's proprietary liquid rubber using β-farnesene. It has excellent plasticity even at low temperatures, which contributes to improved ice grip performance of tires.
Silane-Modified Liquid Butadiene Rubber (GS-L-BR)
GS-L-BR is a silane-modified product of liquid butadiene rubber. When used in tires, the silane groups react with silica to enhance silica dispersion. This enables improved tire grip performance, wear resistance and rolling.
| | |
| --- | --- |
| Event | K2022 International Trade Fair for Plastics and Rubber |
| Date | Wednesday, October 19–Wednesday, October 26, 2022 |
| Venue | Messe Düsseldorf, Germany |
| Booth Number | Hall 7a/D06 |
| Virtual Showroom*4  | https://bit.ly/3BVKXRB |
*4 Leaflets for each product are available.