Happy New Year! On behalf of the Kuraray Group, I would like to make a few comments to bring in the New Year.
2021 was a year of continued confrontation with COVID-19. We started the year with a surge in infections, which were later controlled through restrictions and vaccinations. But the year ended with the spread of a new variant. While the scale and timing of the virus's effects and how authorities responded varied by location, everyone experienced difficulties and inconveniences in their daily lives, both socially and economically. In 2022, we still lack comprehensive measures against the virus, but we must endeavor to move our business forward while taking precautions to prevent future infections.
Although travel and physical interactions will continue to be restricted, I would like for us to devise and implement new ways to achieve our goals. I look forward to working with all of you to overcome the challenges.
New Medium -Term Management Plan to create new business opportunities and profits has started.
2022 is the first year of the Medium-Term Management Plan that will finish in 2026 … the 100th anniversary of our company. In addition to steadily implementing current plans and strategic investments, we will execute the new strategies that were carefully developed over the past two years so we can increase our profitability and create new businesses to achieve growth. We held workshops to examine and discuss how to deal with cross-organizational matters that are common to the entire company. They are reflected in the January 1 reorganization and include: establishing an Innovation Networking Center to create new business opportunities; reorganizing and strengthening the CSR Division and renaming it the Corporate Sustainability Division; establishing a Global Digital Transformation Office to accelerate business innovation through implementation of digital technology; and strengthening the Purchasing and Logistics Division to improve supply chain management. In the case of global Human Resources strategies, separate workshops were held by HR members at each entity. They will take the ideas generated during these workshops and implement them in coordination with affiliates around the world.
Our thought processes and actions became somewhat inward-focused due to the coronavirus. While we still value that inward focus, it is also time to once again proactively seek to obtain and analyze information about the outside world, market trends, and customer demands so we can effectively use our unique technologies to create new business opportunities and generate profits.
In this first year of the Medium-Term Management Plan, we plan to invest capital raised through our business growth strategies to fund not only new growth opportunities, but also initiatives that address other issues, such as global warming. Under the new framework, it is important that we continue to support our vision of contributing to a sustainable natural ecosystem and improving the environment that we live in.
For Kuraray, the founder's philosophy is that "profits made from society should be returned to society." Our corporate mission is "for people and the planet—to achieve what no one else can." This philosophy and mission are intangible, valuable assets. They can only be passed on to the next generation if we all take them to heart and demonstrate them through our actions. I hope you will join me in making this a fruitful year in which voluntary and proactive actions, coupled with lively discussions among all of us in the Kuraray Group globally, will determine the direction that we should move in.
As we enter a new year, I'd like to take this opportunity to describe what sort of organization I want the Kuraray Group to be.
Importance of "a safe workplace and a company in which everyone can work with confidence"
First, Kuraray must be "a safe workplace and a company in which everyone can work with confidence". "Safety is the cornerstone of everything we do" at all of our manufacturing and R&D facilities and offices around the world. I ask both management and employees to continue to sharpen your senses regarding safety and aspire to be an accident-free company as you engage in your work. I also want Kuraray to be a company where a diversity of people with unique characteristics can work together with confidence and without fear of harassment.
To be a vigorous and creative corporate entity
Second, I want the Kuraray Group to be a vital and dynamic corporate entity. We must have the ambition, strength, and power to take advantage of environmental changes and see them as opportunities to evolve, while also transforming ourselves. We need to make decisions based on deep contemplation and quickly take action without getting caught up in the immediate circumstances. This is only possible through a positive attitude. By thinking and acting positively without fear of failure, we can come up with and implement ideas that lead to innovation and change, and ultimately to great success. I strongly urge you to keep this in mind so that the Kuraray Group can remain a vital, creative corporate entity.
To be "a strategically indispensable company" for people around the world
Third, I want our company to be a place where each employee grows by upholding high ethical values. As full-fledged members of the company and society, I challenge all of you to always act with a strong sense of responsibility and to diligently enforce compliance. By doing so, you will help lead the company to growth. People are at the core of all corporate activities. Regardless of how advanced information technology and machines become, people will always be their users and the driving force behind them. I want Kuraray, which is an aggregate of its people, to exemplify good corporate citizenship and create value so we are known as "a strategically indispensable company" around the world.
I hope that you will keep these three points in mind and make them a part of your daily actions.
In closing, I wish everyone in the Kuraray Group worldwide and their families a healthy, happy, and prosperous year.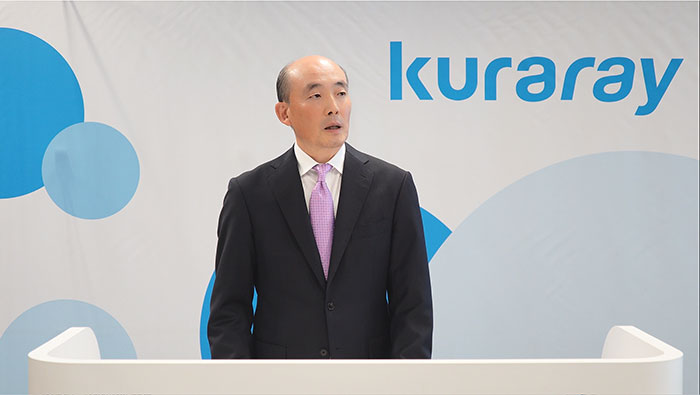 Representative Director and President Hitoshi Kawahara