Happy New Year! I have the great honor of being appointed Representative Director and President of Kuraray as of January 1. On behalf of the Kuraray Group, I would like to make a few comments to bring in the New Year.
All of you have likely spent the New Year's holidays under unusual circumstances due to the coronavirus that spread across the globe this past year. I'd like to take this opportunity to express my gratitude to those of you who continued to operate our plants in a safe and reliable manner despite these circumstances. For all of those physically afflicted with the coronavirus, I wish you a fast and full recovery. I hope and pray that all of you have celebrated the New Year safely and carefully.
The coronavirus is expected to continue affecting the world economy for some time to come, and although there are forecasts of recovery starting in the latter half of the year, the future remains unclear. Travel and physical interactions will be restricted, but rather than complaining about the situation, we must focus on finding ways to overcome the restrictions and devise and implement new ways to achieve our goals. I look forward to working together with all of you to overcome these difficulties.
To be "a strategically indispensable company" for people around the world
This year, we will develop the Medium-Term Management Plan that will start in FY2022 and finish on the 100th anniversary of our company in 2026. In addition to steadily implementing the plans and strategic investments already underway, we must re-examine our earning capacity that has been shaken by the effects of the coronavirus and steadily increase our profitability. To this end, we must be prepared to fundamentally improve and reform products and businesses that have structural profitability issues.
In the new Medium-Term Management Plan, we will promote digital transformation through strategic implementation of IT. As a company-wide initiative we will aspire to boost our competitive advantage by accelerating business process transformation and customer-driven business strategies.
In addition, we must give due consideration to sustainability in our discussions and form development plans, addressing how Kuraray, as a corporation, will address various issues such as contributing to a sustainable natural ecosystem and improving the environment that we live in. We must contribute to society in a manner consistent with our founding Kuraray policy: For people and the planet—to achieve what no one else can. I hope that all of you will proactively participate in lively discussions so that we, as the Kuraray Group, can together determine our future direction and have a fruitful year.
Importance of "a safe workplace and a company in which everyone can work with confidence"
Now, I'd like to take this opportunity to describe what sort of organization I want the Kuraray Group to be.
First, regarding safety, my predecessor, Mr. Ito, always said that Kuraray must be "a safe workplace and a company in which everyone can work with confidence". This goal remains. A leadership change does not mean that this foundational principle for us, as a manufacturer, is altered in any way. I firmly believe that "safety is the cornerstone of everything we do" and that Kuraray is a safe workplace and company where everyone can work with confidence. I'd like to ask all management and employees to continue to aspire to a safe, accident-free company as you engage in your work.
To be a vigorous and creative corporate entity
Second is for the Kuraray Group to be a vital and dynamic corporate entity. With the recent economic downturn and lack of stability and clarity about the future, it is easy to become inward-looking and feeling isolated. However, we must have the ambition, strength and power to break through, taking advantage of changes to the environment, seizing opportunities to transform ourselves. We need to make decisions based on appropriate deliberation and quickly take action without being caught up in the current situation; and we must have the positive attitude to make this possible. I believe that all of you in the Kuraray Group globally have great potential. It is said that the capabilities of human beings are beyond the scope of what people expect of themselves or others. I ask you, please do not limit your capabilities or possibilities. Ideas that lead to innovation are created by having a positive consciousness and attitude, and taking energetic, dynamic actions both within the company and outside. I would like to ask all of you to keep this in mind so that the Kuraray Group can continue to be a vigorous and creative corporate entity.
To be a company where people can work together, with pride
There is a third important point I want to make. I would like our company to be a place that creates never ending success. I want it to thrive because each of you are growing by acting in accordance with high ethical values as a full-fledged member of the company and society and with a strong sense of responsibility to diligently enforce compliance. Needless to say, we will never condone earning or making profits through improper transactions and will strive for a harmonious, harassment-free workplace. We will establish mechanisms and create the environment to make sure of this. We will endeavor to be a company where diverse of people with unique characteristics can work together, with pride. I would like the corporation, which is made up of our people, to exemplify good corporate citizenship and create value so that Kuraray is recognized as "a strategically indispensable company" by people around the world.
As we go forward, it will be a great challenge and pleasure to listen to your thoughts at various opportunities, have numerous discussions, create a vision for Kuraray's 100th anniversary in 2026 and beyond and work together to achieve that vision. The next few years will be a critical juncture in Kuraray's long history. I am looking forward to progressing towards a great goal together with all of you.
In closing, I would like to wish everyone in the Kuraray Group around the world and their families a healthy, happy and prosperous year.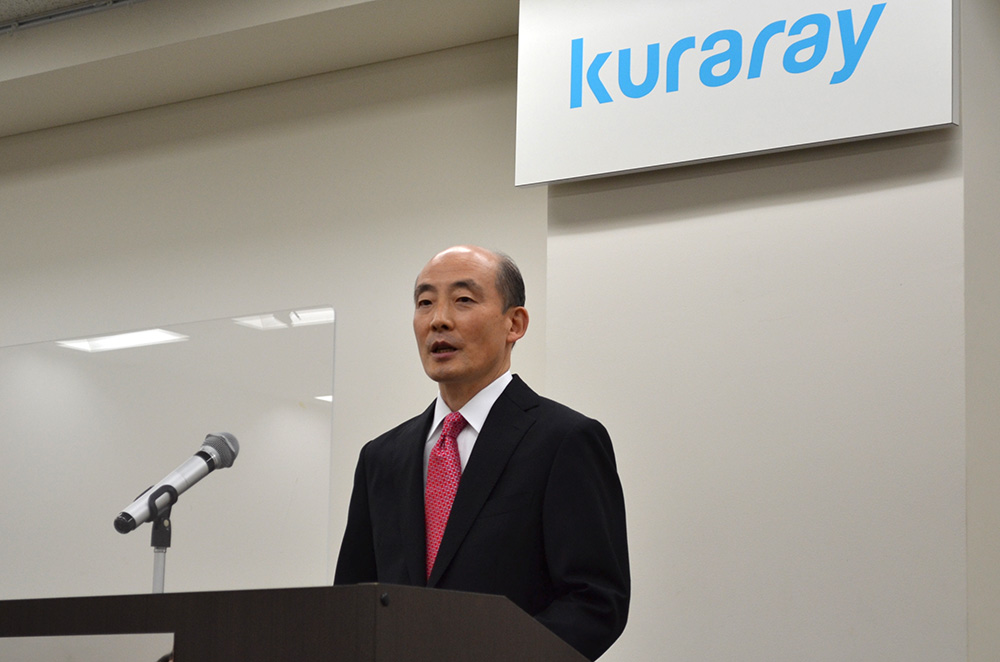 Representative Director and President Hitoshi Kawahara