Kuraray Co., Ltd. (Headquarters: Chiyoda-ku, Tokyo; President: Masaaki Ito; hereinafter "Kuraray" or the "Company") hereby announces that it will participate in the G20 Innovation Exhibition, an international event with the theme For Earth, Society and the Future, slated to be held on June 14 to 16, 2019 in Karuizawa, Nagano Prefecture. The exhibition will take place in conjunction with the G20 Ministerial Meeting on Energy Transitions and Global Environment for Sustainable Growth, with Japan serving as the host country. At this event, Kuraray will introduce PLANTIC™, an eco-friendly packaging material boasting a superior gas barrier property and thus capable of contributing to reduction in food loss.
1.

Product to Be Exhibited
PLANTIC™ Biomass-Based Gas Barrier Material
PLANTIC™is a biomass-based, biodegradable gas barrier material. Due to its superior gas impermeability, the product is used as a packaging material that helps maintain food quality and extend the shelf life of fresh foods. Moreover, because PLANTIC™ is a carbon neutral product, it contributes to a net reduction in CO2 emissions.
In addition, the product can be used in combination with other biomass-based biodegradable materials to create packaging materials with superior performance in terms of environment friendliness.
PLANTIC™ is a drop-in replacement for incumbent materials, this has allowed PLANTIC™ to be chosen by several major supermarket chains in Australia, Europe and the United States since its release in 2003. These major retailers are using PLANTIC™ in Modified Atmosphere Packaging (MAP) material for fresh food and as a packaging material for chilled foodstuffs, such as fresh pasta.
In South Korea, PLANTIC™ is used by a growing number of retailers as an eco-friendly material for coffee bean packaging thanks to its ability to preserve food aroma and flavor.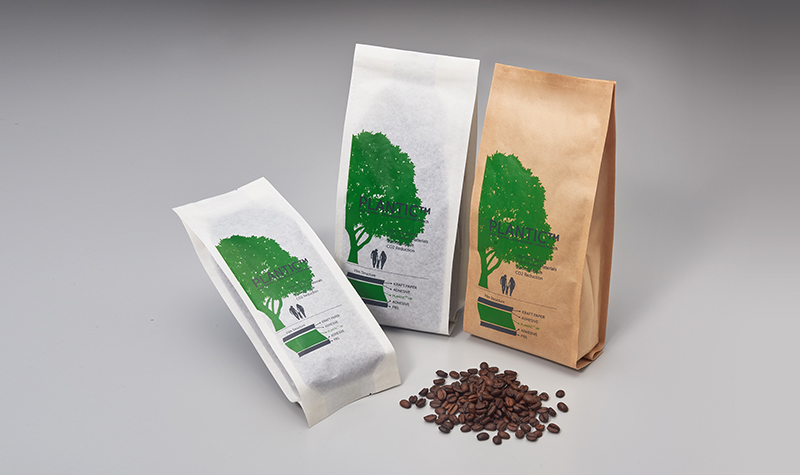 Coffee bean packaging made using PLANTIC™
2.

Overview of the Exhibition
Name
G20 Innovation Exhibition—For Earth, Society and the Future
Date
June 14 (Fri.) to 16 (Sun), 2019
Venue
Karuizawa Prince Shopping Plaza
Karuizawa, Karuizawa-machi, Kitasaku-gun, Nagano Prefecture
Zip code: 389-0102
(The event will take place in the parking lot)
Sponsors
Ministry of Economy, Trade and Industry and Ministry of the Environment
URL
https://www.g20karuizawa.go.jp/en/exhibition/outline/