Kuraray Fastening Co., Ltd. (Headquarters: Osaka; President: Toru Tanokura; hereinafter "Kuraray Fastening") hereby announces its decision to launch two newly developed MAGIC TAPE hook and loop fastener products under the ECOMAGIC and FREEMAGIC brand names, in December 2016. The new products are additions to these lineups and conform with JIS T 8127 standards for high-visibility (HV) clothing while offering superior flame resistance. ECOMAGIC is a polyester-based hook and loop fastener lineup while the FREEMAGIC lineup features hooks and loops on the same side of the tape to enhance usability.
With these products, Kuraray Fastening is aiming to expand into such fields as sports apparel and outdoor clothing, looking to meet market demand for HV work gear and fluorescent sportswear.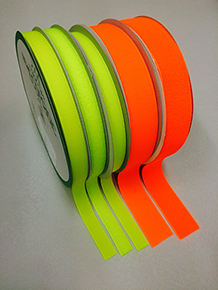 ECOMAGIC products with fluorescent yellow and orange red
Worn by police officers and firefighters as well as road workers, airport staff and others engaged in potentially dangerous activities requiring enhanced visibility from a distance, HV clothing often features fluorescent colors and reflectors to ensure that users will be noticed under both low and normal light conditions.
In Europe, businesses are obliged to provide relevant workers with HV clothing that satisfies EN standards. Moreover, based on said EN standards, the International Organization for Standardization developed and issued ISO 20471 for HV clothing in March 2013.
In Japan, the Japanese Industrial Standards Committee established the similar JIS T 8127 standards on October 26, 2015, spurring a widespread trend toward the adoption of standards of this kind.
Polyester-based hook and loop fasteners that not only satisfy but surpass the JIS T 8127 standards for HV clothing in terms of chromaticity, brightness and color durability.
In line with said standards, color variations include fluorescent orange red and fluorescent yellow.
The new products also satisfy FMVSS 302 standards for automotive-grade flame resistance as we aim to accommodate needs of customers in Europe, where many regions enforce regulations mandating drivers to carry HV clothing in their vehicles.
Thanks to their softness,

FREEMAGIC

products do not damage other materials even when used on such clothing components as belts, waistbands and cuffs. In addition,

FREEMAGIC

products are available in the aforementioned two fluorescent colors.
HV clothing and equipment for securing the safety of road workers.
Sports apparel
Outdoor equipment, etc.
December 2016
Reference
Company Overview
| | |
| --- | --- |
| Company name | Kuraray Fastening Co., Ltd. |
| Headquarters | Umeda Hankyu Building Office Tower 40F, 8-1 Kakudacho, Kita-ku, Osaka, Japan |
| Representative | Toru Tanokura, Representative Director and President |
| Establishment | October 2004 |
| Capital | ¥100 million (70% of equity stake held by Kuraray Co., Ltd.) |
| Principal businesses | Development, manufacture and sale of MAGIC TAPE woven hook and loop fasteners, MAGILOCK molded hook and loop fasteners and other related products |