Employing one of its proprietary technologies, Kuraray Co., Ltd. (Headquarters: Chiyoda-ku, Tokyo; President: Masaaki Ito; "Kuraray") has developed a photocurable elastomer. This technology enables good control of the molecular weight as well as the distribution of the elastomer and the photocurable portions within the molecular structure of a polymer, a process that yields superior curability and elasticity compared with other photopolymers on the market.
Rapid UV curable photopolymers have been developed for a wide variety of fields, including adhesives and coatings, due primarily to their excellent workability. Besides being indispensable to the manufacture of displays and electronic components, they are also used as the medium for 3D printing.
With this newly developed proprietary photocurable elastomer, Kuraray will continue exploring a range of markets, especially adhesives, coatings and molding materials.
1.

Background of Development
Using its proprietary living anionic polymerization technology, which enables the precise design of polymers, Kuraray has created such thermoplastic elastomer products as SEPTON, which has superb moldability, and KURARITY, an acrylic elastomer with superior elasticity, transparency and weather resistance.
Using the know-how cultivated through these endeavors, we have now successfully developed a photocurable elastomer, the market for which is expected to expand in a wide range of fields.
2.

Characteristics of the New Photocurable Elastomer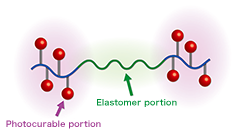 Schematic diagram of the molecular structure of photocurable elastomer
The length of the elastomer portion of the molecule can be adjusted as designed, enabling desired elasticity and strength.
A wide range of properties can be achieved by combining with various monomers that are compatible.
The curing time is short compared with that of common photopolymers, and the cured elastomer has elasticity. Depending on the design, adhesive properties can also be achieved.
It has excellent dimensional stability. The material shows minimal shrinkage upon curing.
It possesses the characteristics of typical acrylics, including transparency, weather resistance and adhesiveness.
| Target Area | Possible Applications | Performance Expected from the Material |
| --- | --- | --- |
| Adhesives | Displays, electronic components and optical-use lenses | Adhesiveness, curability, dimensional stability, elasticity and transparency |
| Coatings | Automotive lenses and reflectors, printing plates and ink, paints and construction materials | Transparency, weather resistance, workability, elasticity and curability |
| Molding Materials | 3D printing and nanoimprints | Impact resistance, transparency, weather resistance, elasticity and curability |
Reference Material
Photocurable elastomer sample after curing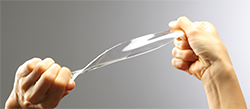 Stress-strain curves of four types of photocurable elastomers with different structures after curing