Kuraray Co. Ltd. (Headquarters: Chiyoda-ku, Tokyo; President: Fumio Ito) has further augmented the moisture protection properties of KURARISTER* transparent high barrier film for food packaging retort** to create KURARISTER CF and initiated full-scale sales of the new product. While promoting the use of KURARISTER CF as an alternative to the aluminum foil laminated packaging that are currently in widespread use, we will actively pursue development in fields outside of food packaging, with an eye to providing packaging for pharmaceuticals and other medical products, IV solution, liquid meals and pet food, areas in which plastic retort package are being used with increasing frequency.
*KURARISTER: Kuraray began exclusively marketing this transparent high barrier film for use in retort food packaging in 2005. The product's principal technical characteristic is that it is a hybrid composite of organic and inorganic materials. Owing to its high gas impermeability, durability under retort processing, transparency and secondary processability, in addition to various food packaging applications KURARISTER is appropriate for packaging applications in the pharmaceutical, pet food and beverage industries.
**Retort packaging (sterilizing treatment, applying heat and pressure): Retort are used to sterilize the content of pouches that are sealed. The pouches are usually heated for 30 to 60 minutes at 120°C to ensure thorough sterilization. To preserve flavor, the temperature may be kept at between 105°C and 115°C, a process known as semi-retort processing. To speed up sterilization the temperature may be raised to between 125°C and 135°C, a process known as high retort processing.
1.Background of Development
In step with demographic aging as well as the rising number of people living alone, more people are buying retort-packaged food and precooked meals instead of cooking from scratch.
Because such packaging is microwavable , produces no residue when incinerated and allows metal detectors to screen content for foreign objects, transparent laminate packaging made of gas-impermeable plastic film is expected to see market growth, replacing the aluminum foil laminate products currently in widespread use.
2.Characteristics of
KURARISTER CF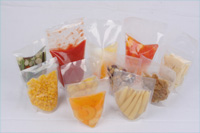 Application examples of
KURARISTER CF
A barrier film suitable for standard
and stand-up retort pouches
Highest gas barrier level among existing plastic films in terms of oxygen and moisture
Since high barrier performance is unaffected by retort processing, packaged content remains virtually unchanged
Retortable, suitable for use with wide range of retort conditions.
Physical stress like elongation, flexing and folding have largely no effect on barrier performance
Microwavable
Highly transparent, allowing for visual confirmation of content
Easy processing, including printing and laminating
Can be directly printed on with solvent- or water-based ink
Compatible with metal detectors
Produces no residue or toxic gases when incinerated
Barrier performance with regard to oxygen and moisture
Item
Retort Condition

KURARISTER C

KURARISTER CF

Inorganic coated PET
Oxygen permeation rate
(cm3/m2•day•atm)
Before retort
-
0.3
0.4
0.3
After retort
30 min. at 120°C
0.4
0.4
0.5
Moisture permeation rate
(g/m2•day)
Before retort
-
6
0.2
0.8
After retort
30 min. at 120°C
6
0.2
2.0
3.Sales Target
¥2.0 billion per year