In a continuation of its corporate advertising campaign, Kuraray will begin airing the newest installment in its TV commercial series, "Mirabakesso," on Sunday, December 29, 2013.*
In this installment, "Mirabakesso Evolution," Kuraray-Chan the alpaca changes colors in a vivid display. These color changes symbolize the constant evolution of Kuraray's Mirabakesso ("new materials that transform into the future").
Alongside Kuraray-Chan appears Riko Narumi, who has become an indispensible figure in Kuraray's TV commercials, as well as Kuraray-Maru, Kuraray's TV commercial character first introduced last year. Together, they communicate Kuraray's unique worldview.
*

Mirabakesso is a contraction of the campaign's catchphrase, "Mirai ni Bakeru Shinsozai" or in English, "new materials that transform into the future."
1. Summary of the TV Commercial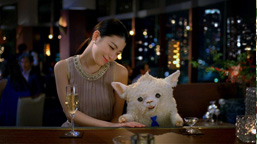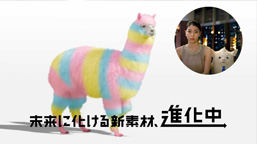 Title
Kuraray Corporate Commercial "Mirabakesso Evolution," running as 15-second spots
Start of Broadcast
Sunday, December 29, 2013
Storyline
Whether Riko Narumi and Kuraray-Maru are spending time together or apart, the evolution of Mirabakesso continues. Kuraray-Chan the alpaca changes from one color to the next until evolving into her final, astonishing form! What a surprise for Riko Narumi and Kuraray-Maru!
Broadcast Schedule
(1)

Commercial Airing Locations Kanto, Kansai, Niigata, Okayama, Kagawa, Ehime, Nagoya, Fukui (Japan)
Sunday, December 29, 2013–Friday, January 10, 2014
Production Staff
Production Company: LIGHT PUBLICITY CO., LTD.
Creative Director: Nobuyuki Miyadera
Director: Yoshinari Kamiya
TV Commercial Concept Developed by the Production Staff
2013 marks the seventh year of this advertising campaign. The production staff worked to once again emphasize Mirabakesso ("new materials that transform into the future"), the message of the campaign since the first year. In the TV commercial, the continuous evolution of Mirabakesso is expressed by the colorful Kuraray-Chan. On the advertising campaign website (Japanese only), several Mirabakesso are introduced in detail. Mirabakesso helps to explain how Kuraray endeavors to address such worldwide issues as global warming and the use of limited resources.
2. Behind the Scenes
The commercial was shot in early December. First to strut his stuff in the studio was Kuraray-Chan the alpaca. This commercial featured the seventh alpaca to play Kuraray-Chan, a male named Kaikai. Kaikai has a very mild disposition, and filming of his scenes, in which he had to walk continuously, went smoothly. Kaikai's cute trot brought smiles to the faces of the production staff, in keeping the origin of his name, the phrase "Hito wo yukai ni, chikyu wo yukai ni shitai," meaning "desire to bring joy to people and the Earth." The performance of Riko Narumi and Kuraray-Maru together was not to be missed, either. The two are seen on a date in a stylish bar, the refined-looking Riko and the comical Kuraray-Maru proving a captivating combination. Kuraray-Maru was controlled by specialist staff, with subtle movements that gave the strong impression that the puppet was a real animal. Between takes, Riko Narumi too was greatly entertained by the movements of Kuraray-Maru. The atmosphere on set was relaxed and friendly, and shooting concluded successfully.
3. About Riko Narumi

Riko Narumi was born on August 18, 1992.
She was cast in her first leading role in the TV series Ruri no Shima in 2005. Since then, she has appeared in numerous TV series, films and on stage in live performances.
Her latest film is Nishino Yukihiko no Koi to Bouken, to be released February 8, 2014.
4. About Alpacas

The seventh alpaca to play Kuraray-Chan, Kaikai is a male and was born on August 19, 2012.
Found mainly in South America, alpacas belong to the camel family and have been domesticated since the time of the ancient Inca Empire. They live on grass and moss and grow to reach approximately 2 meters in height and 50 kg in weight. Their cute, unique appearance makes a strong impression, but alpacas are actually very cautious and shy.
5. About Kuraray-Maru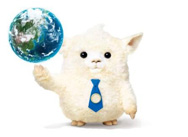 Kuraray-Maru is Kuraray's new TV commercial character, first introduced in 2012.
Approximately 38 cm tall, Kuraray-Maru is covered in fluffy fur and has a face that is similar to that of the alpaca Kuraray-Chan. Kuraray-Maru has two special talents: finding solutions to global problems and calling up a small model of the Earth that floats in the air as it strikes its distinctive "Kai Kai pose."
Kuraray-Maru's name comes from the Japanese word for "circle," maru, a mark given for a correct answer, symbolizing Kuraray as a provider of solutions and answers to global problems.
6. Purpose of the Ad Campaign
Kuraray was established in 1926 in Kurashiki City, Okayama Prefecture, as a manufacturer of rayon synthetic fiber. Since succeeding in the commercialization of Japan's first PVA fiber, KURALON, based on technologies developed domestically, Kuraray has utilized the technology for poval, the material used in creating KURALON, to become a company that currently boasts the world's largest market share for a number of highly functional materials developed using its own, original technology. These materials include: poval film, which is essential for LCDs used in televisions and PCs; EVAL, a resin distinguished by its excellent gas barrier properties; CLARINO, a type of manmade leather used in school bags and other applications; and SEPTON, an advanced hydrogenated styrene-type thermoplastic elastomer with an elasticity similar to rubber.
In line with its corporate culture of "contributing to the world and individual well-being through actions that others are unable to produce," the Kuraray Group works to "contribute to the solution of issues threatening our planet and living things with pioneering technology" while aiming to realize sustainable growth as a "specialty chemical company with a global presence."
This corporate advertising campaign, centered on television commercials, has been conducted to support future growth and boost Kuraray's corporate brand value.
In addition to Mirabakesso ("Mirai ni Bakeru Shinsozai" or in English, "new materials that transform into the future," in fiscal 2012 Kuraray established a new catchphrase: "Chikyu Kai Kai," short for "Chikyu Mondai no Kaiketsu ni Idomu Kaisha" or in English, "a company that takes on the challenge of solving global problems." This catchphrase expresses the Kuraray Group's intention to provide effective solutions through pioneering technology for such current worldwide problems as global warming, the use of limited natural resources, water and food shortages, and environmental pollution.
Kuraray is Mirabakesso and Chikyu Kai Kai. Kuraray will continue to take on the challenge of creating new solutions in the water/environment, energy and optical/electronics fields.
Overview of Kuraray Co., Ltd.
| | |
| --- | --- |
| President | Fumio Ito |
| Headquarters | 1-1-3, Otemachi, Chiyoda-ku, Tokyo, Japan |
| Principal businesses | Manufacture and sale of resins, chemicals, fibers and other items |
| Capital | ¥89.0 billion (as of March 31, 2013) |
| Consolidated number of employees | 7,537 (as of September 30, 2013) |
| Consolidated net sales | ¥369.4 billion (fiscal year ended March 31, 2013) |
| Consolidated operating income | ¥49.2 billion (fiscal year ended March 31, 2013) |