Kuraray Co., Ltd. (Headquarters: Chiyoda-ku, Tokyo; President: Fumio Ito) and Kuraray Chemical Co., Ltd. (Headquarters: Kita-ku, Osaka; President: Yasuhiro Yamamoto; hereinafter "Kuraray Chemical") have jointly donated USD 30,000 toward the relief of victims and recovery of areas impacted by Typhoon Haiyan in the Philippines.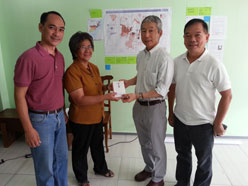 The President of Cenapro Chemical Corporation (far right) and an overseas employee of Kuraray Chemical (second from right) present the donation
Donation
USD 30,000
Recipient
Habitat for Humanity Philippines, an international non-governmental organization dedicated to building and repairing decent housing.
(http://www.habitat.org.ph/)
The donation was made on November 28 through Kuraray Chemical's joint venture manufacturing affiliate in the Philippines, Cenapro Chemical Corporation.
In addition to this donation, employees of the Kuraray group have organized other, independent fundraising activities.
The Kuraray Group extends its deepest sympathies to the victims of Typhoon Haiyan and hopes for the rapid recovery of the affected areas.
Kuraray Chemical Co., Ltd.
Headquarters:Umeda Hankyu Building Office Tower, 8-1, Kakuda-cho, Kita-ku, Osaka, Japan
President:Yasuhiro Yamamoto
Established:December 1940
Capital:JPY 600 million (Kuraray ownership: 100%)
Business activities:Manufacture and sale of activated carbon and other chemical products
Website:http://www.kuraraychemical.com/
Cenapro Chemical Corporation
Headquarters:Mandaue City, Cebu, Republic of the Philippines
Factory:Mandaue City, Cebu, Republic of the Philippines
Established:April 1975
Capital:PHP 55.4 million (Kuraray Chemical ownership: 35%)
Business activities:Manufacture and sale of activated carbon from coconut shells