Each year, Kuraray Co., Ltd. produces a popular, user-friendly calendar that focuses on an aspect of nature as its theme. Since its founding, the Kuraray Group has embraced the pioneering spirit, considering what contributions it is uniquely capable of. This approach applies even to the Kuraray Group calendars. In this spirit, we search out promising up-and-coming photographers to support by featuring their work.
1. Calendar Features
(1)

Each month features a photograph of a natural landscape in keeping with the theme "light," along with a brief explanation from Kakuta of the story behind the shooting of the photograph. The last page features thumbnail views of the photographs for each month.

(2)

This 14-page calendar comprises seven sheets of paper printed on both sides and is 52cm long x 36cm wide when fully opened. The calendar folds in half for delivery, making it compact, and double-sided printing was used to conserve paper resources.

(3)

The date boxes provide ample space for writing appointments and notes. The characters used for the dates are clear and large so that they can be easily read from a distance. This year's calendar also features a space to write memos, for even greater practicality.

(4)

The calendar was designed to be practical and functional as well as decorative and user-friendly.
Page design and explanation sample

Reference Materials
1.Profile of Miho Kakuta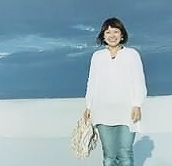 Born in 1977 in Suzuka City, Mie Prefecture, Japan, Miho Kakuta graduated from the School of Graphic Design at the Nagoya campus of the Nippon Designers School before moving to Tokyo in 1999. After a stint working as an assistant at Studio LOFT, she studied under the tutelage of photographer Motoyuki Kobayashi before striking out on her own. Her current work can be seen in magazines, CD jackets, ads and the like where she specializes in making the most out of light and tone for her various subjects, whether people, animals, or landscapes. She began to experiment with video, such as for promotional videos and web movies, in 2011.
2.Photos of "Poems of Light" by month
| | Location photographed |
| --- | --- |
| Jan | Reykjavik, Iceland |
| Feb | Samaipata area, Bolivia |
| Mar | Skrunda, Latvia |
| Apr | Nagano, Japan |
| May | Albuquerque area, U.S.A. |
| Jun | Gifu, Japan |
| Jul | Kailo Island, Naantali, Finland |
| Aug | Klovharu, Pellinki, Finland |
| Sep | Altiplano, Bolivia |
| Oct | Albuquerque, U.S.A. |
| Nov | Altiplano, Bolivia |
| Dec | Akureyri, Iceland |
3.Pages from "Poems of Light"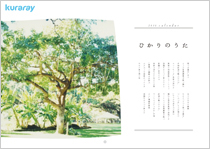 Cover

February

Decemeber