Kuraray Living Co., Ltd. (Headquarters: Osaka City; President: Masao Toryu; hereafter "Kuraray Living"; a wholly owned subsidiary of Kuraray Co., Ltd.) has developed and commenced sales of CLAPURE brand functional nonwoven fabrics, which feature long-lasting insect control and antibacterial effectiveness.
CLAPURE is propylene nonwoven fabric that incorporates within its fibers a slow-release oil in polymer emulsion (SROPE), proprietary pellets containing functional oil developed by Kuraray Living. Functional oil within CLAPURE's fibers slowly seeps out to enable long-lasting effectiveness.
Producing nonwoven fabrics with various functions tailored to different applications, Kuraray aims to expand the applications of CLAPURE into a diverse array of areas, ranging from standard household products to industrial uses.
1. Overview of
CLAPURE

Functional Nonwoven Fabric
Specifications

A propylene spunbond nonwoven fabric containing SROPE-derived functional oil

Main Functions

Antibacterial functions: Obtained the Japan Textile Evaluation Technology Council's (JTETC) SEK Mark

*

Anti-mold functions: Scheduled to acquire the JTETC's SEK Mark

*

Mite control functions
Insect control functions
Mosquito control functions
Aroma-related functions
*

SEK Mark is applied to antibacterial, odor prevention and anti-mold products certified by the JTETC.
Main Features

Functional oil incorporated into nonwoven fabric slowly seeps out to enable long-lasting effectiveness compared with existing products.
Possible to tailor functions to antibacterial, anti-mold and insect control applications in the health and safety field as well as aroma oil applications in the design field.
Functional oil maintains the original texture of fibers without stickiness by gradually seeping from the interior to the surface of nonwoven fabrics.
SROPE disperses microscopic oil drops (ranging in size from several hundred nanometers to several micrometers) to maintain the original texture of nonwoven fabric.
2. Intended Applications
Standard household products: Garment bags, storage and foot care products, etc.
Industrial applications: Packaging, agricultural and interior and apparel materials, etc.
3. Sales Target
Initial fiscal year: ¥200 million
Reference
SROPE

A masterbatch pellet-shaped additive developed in 2006 with high-density functional oil contained within polymers
Using Kuraray's proprietary interface polymer realizes a high-functional oil content rate of 20%.
Acquired two patents in Japan and seven patents overseas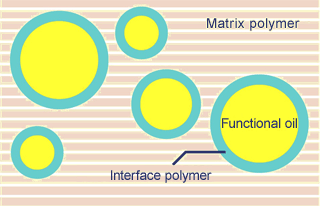 Diagram of SROPE masterbatch configuration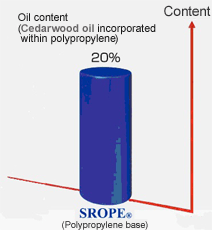 SROPE masterbatch oil content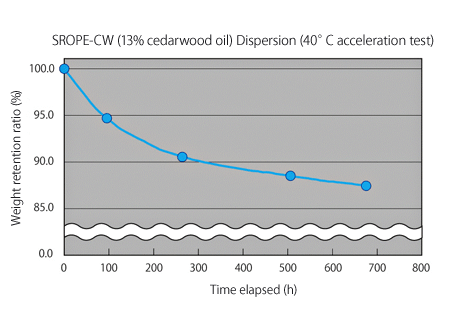 SROPE Dispersion
Antibacterial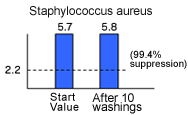 Antibacterial activity value
Anti-mold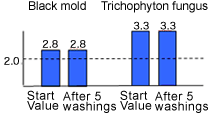 Anti-mold activity value
Mite control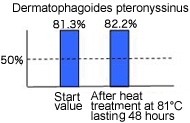 Mite repellant ratio
*

The data listed in this reference is a representative example of measured values obtained under specific conditions, not verification.

*

Antibacterial activity value: JIS L 1902 (staphylococcus aureus)
SEK antibacterial/odor control production standard/antibacterial activity value ≥2.2

*

Anti-mold activity value: Anti-mold qualitative reliability testing method established by the JTETC
SEK antibacterial/odor control production standard/anti-mold activity value ≥2.0

*

Mite repellant ratio: Mite repellant testing method established by the Interior-fabrics Performance Evaluation Conference
Mite repellant performance criteria: Mite repellant ratio of 50% or above
Company Overview
| | |
| --- | --- |
| Company name | Kuraray Living Co., Ltd. |
| Headquarters | Umeda Hankyu Building Office Tower, 39F, 8-1, Kakudacho, Kita-ku, Osaka City, Osaka Prefecture |
| Representative | Masao Toryu, Representative Director and President |
| Capital | ¥11.8 million (100% owned by Kuraray Co., Ltd.) |
| Establishment | May 1955 |
| Principal businesses | Manufacture and sale of nonwoven fabrics and other textiles, packaging materials, SROPE functional masterbatch, etc. |