Kuraray Co., Ltd. (Headquarters: Chiyoda-ku, Tokyo; President: Fumio Ito; "Kuraray") announces that KURALON has been recognized by The Chemical Society of Japan (CSJ) as a "Chemical Heritage" material. Developed by Kuraray in 1950, KURALON is the first domestically produced synthetic fiber to be successfully commercialized worldwide.
The CSJ has previously recognized a total of ten items as "Chemical Heritage" materials, six in its first selection and four in the second. KURALON is included among seven additional materials being recognized in the third selection held during the current fiscal year.
The CSJ will hold a ceremony to present certificates of recognition for these materials at the Hiyoshi Campus of Keio University on March 26, 2012.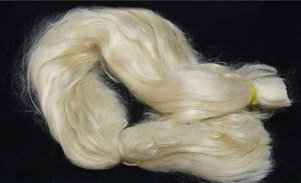 KURALON is the 16th item to be recognized as a "Chemical Heritage" material.
The CSJ recognizes as "Chemical Heritage" materials those items that have particular value in the history of Japan's chemical and technological development.
The CSJ website: http://www.chemistry.or.jp/index-e.html
Information concerning the "Chemical Heritage" Committee: http://www.chemistry.or.jp/archives/index.html (Japanese language only)
What is
KURALON

?
KURALON

, a synthetic fiber made from polyvinyl alcohol fibers (PVA), was developed in 1939 by a team led by Professor Ichiro Sakurada at Kyoto University.
In 1950, Kuraray became the first company in the world to mass produce Japan's first synthetic fiber, named

KURALON

.
Among synthetic fibers,

KURALON

features the highest hydrophilic properties; superior ultra-high strength and weather resistance; and strong resistance to alkali and acidic substances.
Demand for

KURALON

as a reinforcing fiber in cement to replace asbestos has increased in the European and Japanese construction markets. In addition, Kuraray expects demand to grow in Southeast Asia, Eastern Europe and Central and South America.

KURALON

production base: Kuraray's Okayama Plant (Minami-ku, Okayama City)
※

In 2010,

KURALON

was recorded in the registry of important historical materials of industrial technology (Epithet: Technological Legacy for the Future) by the National Museum of Nature and Science.
News release: Domestically Produced KURALON Synthetic Fiber Is Registered by the National Museum of Nature and Science as a Technological Legacy for the Future /news/2010/101005_2/