Kuraray Co., Ltd. (President Fumio Ito; Headquarters: Chiyoda-ku, Tokyo) announces its first-ever participation in Paint India 2012, an exhibition that will commence on February 23, 2012 in Mumbai, India.
Kuraray will exhibit TUSVIS, a novel water-soluble polymer that the Company announced the development of in September 2011. TUSVIS was developed by applying Kuraray's unique polymer synthesis technology that it has nurtured in the polyvinyl alcohol (PVA) resin business. Featuring unique characteristics not found in conventional PVA resin, TUSVIS is scheduled to be sold for adhesive and paint applications. Kuraray is participating in Paint India for the first time in light of accelerating sales in southern Asia, particularly in India, where construction demand is expected to increase.
Period
Thursday, February 23, 2012, to Saturday, February 25, 2012 (3 days)
Venue
Bombay Exhibition Centre, Mumbai, India
Hall No.1/D-22A
Main Content of the Exhibit
Kuraray will exhibit panels that provide product explanations of TUSVIS novel water-soluble polymer SN Series and EXCEVAL water-soluble resin. In addition, Kuraray will display aqueous solution samples in order to enhance understanding of the TUSVIS SN Series' properties.
The SN Series of TUSVIS can be used to create aqueous solutions that boast viscosity several thousand times greater than solutions made using conventional PVA resin. Unlike conventional PVA resin, Kuraray plans to sell TUSVIS as a thickening agent (particularly in adhesives, paint and paper processing agents) as well as for applications as rheology control agents(*1) and film-surface modifiers that have hydrophobic functional groups.
Image of the molecular structure of TUSVIS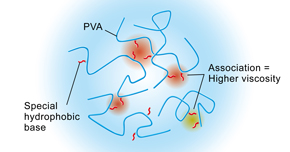 The TUSVIS SN Series increases the viscosity of aqueous solutions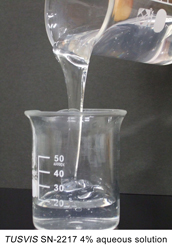 *1

Rheology control agents are used as additives to control and adjust the viscosity, liquidity and other physical characteristics of solutions and materials depending on the application and purpose.
Reference
The development of TUSVIS was announced in a press release available at
/news/2011/110921_2/