Kuraray Co., Ltd. (President: Fumio Ito; Headquarters: Chiyoda-ku, Tokyo) today announced that it has successfully developed two series—namely, the &"MY Series" and &"SN Series"—of novel water-soluble polymers under the TUSVIS brand. In solution, the MY Series shows higher viscosity as the temperature rises, while solutions using the SN Series achieve high viscosity regardless of temperature. Kuraray has begun TUSVIS evaluation in the market.
Background of Development
Kuraray has developed TUSVIS through the application of the unique polymer synthesis technology that it has been nurtured through its polyvinyl alcohol (PVA) resin business.
As TUSVIS boasts water solubility, high viscosity, high hydrophobic properties and high chemical resistance, it can be used as a thickening agent for eco-friendly, water-based adhesives and paints.
Main Characteristics
TUSVIS & "MY Series"
Conventional PVA resin solutions show lower viscosity as the temperature becomes higher. In contrast, the MY Series solution shows a rapid increase in viscosity when the temperature becomes higher.
As the molecular structure of the MY Series includes special hydrophobic units, the hydrophobic properties of films can be improved by coating it with this polymer.
TUSVIS &"SN Series"
The SN Series of TUSVIS can be used to create aqueous solutions that boast viscosity several thousand times greater than solution made using conventional PVA resin. Thanks to this feature, the amount of polymer added to water to create a solution of a desired level of viscosity can be reduced to one-third to one-fifth of the amount of conventional PVA resin needed to create a solution of equivalent viscosity. In addition to its function as a thickening agent, the SN Series functions as an adhesive. (The SN Series is not temperature-responsive.)
Main Potential Applications
Paints, adhesives, paper processing agents, thickening agents for water-based lubricants and rheology control agents

(*1)

Film surface modifiers
*1

Rheology control agents are used as additives to control and adjust the viscosity, liquidity and other physical characteristics of solutions and materials depending on the application and purpose.
Reference
TUSVIS MY Series: Temperature and viscosity of a 4% solution (comparison with s solution made using a conventional PVA resin)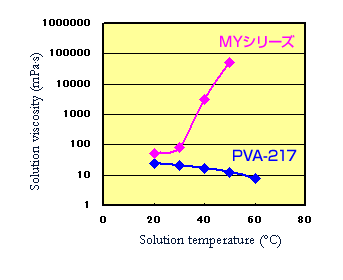 TUSVIS SN Series: Solution concentration and viscosity at 20 °C (comparison with a solution made using a conventional PVA resin)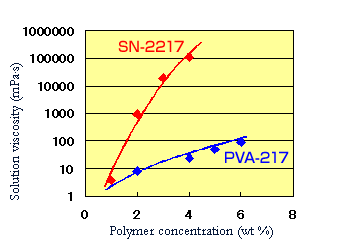 Image of TUSVIS in water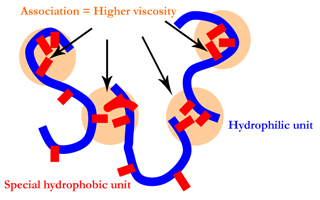 What is PVA resin ?
PVA resin is a class of synthetic resin and Kuraray was the first company in the world to succeed in commercializing it as a raw material, using it to produce KURALON fibers and textiles in 1950. Taking advantage of its water solubility and other excellent characteristics, PVA resin is widely used for various applications, including paper processing agents, adhesives and fiber sizing agents. Also, Kuraray commands a large share of the global market for optical-use poval film—based on PVA resin and used as a base material for the polarized films used in LCDs. In fact, Kuraray is a world-leading manufacturer of PVA resin, boasting a more than 30% share of the global market.