In a continuation of its corporate advertising campaign, Kuraray will air the newest episode in the "Mirabakesso"(*) TV commercial series on Saturday, August 27, 2011.
In the new "Barrier-Type" Mirabakesso episode, the alpaca "Kuraray-Chan" and actress Riko Narumi are transported from a supermarket into outer space. Kuraray's product, Barrier-Type "Mirabakesso" EVAL, is a major part of the commercial's theme, namely, the social contribution Kuraray is making in the area of food packaging materials through EVAL's barrier functions. This episode seeks to promote Kuraray's positive corporate image as a "unique global chemical manufacturer committed to contributing to society through an array of new and evolving materials."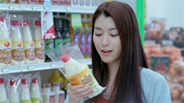 In addition, the commercial's concept of "○○-Type" provides a preview of the wide array of new materials that Kuraray will create in the future.
*

Derived from the campaign phrase "Mirai ni Bakeru Shinsozai"which can be literally translated as "new materials that transform into the future"
1. Summary of the TV Commercial
Title
Kuraray Corporate Commercial "Barrier-Type" Mirabakesso episode running as 15 and 30 second spots
Start of Broadcast
August 27, 2011 (Saturday)
TV Commercial Storyline
Mirabakesso "Barrier-Type" episode begins with Kuraray-Chan and Riko Narumi in a supermarket having fun shopping together. Riko picks a mayonnaise bottle made with Barrier-Type "Mirabakesso" and asks Kuraray-Chan: "The shelf life-" Kuraray-Chan answers "can be extended-sso!" Then Riko picks up a potpourri package and asks Kuraray-Chan: "The aroma keeps-" Kuraray-Chan answers, "long lasting-sso!"
After this, Riko picks up a space food and asks: "Even far in space." Suddenly, Riko and Kuraray-Chan begin to float upward into outer space and Kuraray-Chan cheerfully answers: "it's flourishing-sso!" The commercial closes with Riko wondering if there are any other ○○-type "Mirabakesso" materials: "What other types are there?"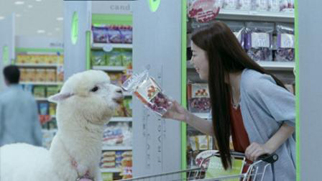 Riko and Kuraray-Chan having fun shopping together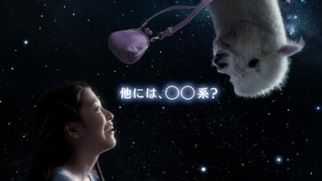 "What other ○○-types are there?"
Broadcast Schedule
(1)

TV programming (nationwide)

"Gaia no Yoake" (Dawn of Gaia) (documentary program on economic subjects, broadcast in affiliation with TV Tokyo Corporation from 10:00 p.m. to 10:54 p.m. every Tuesday)
(2)

Commercial Airing Locations

Kanto, Kansai, Niigata, Okayama, Kagawa, Ehime (Japan)
Saturday, August 27, 2011–Friday, September 16, 2011
Production Staff
Production Company : LIGHT PUBLICITY CO., LTD.
Creative Director : Nobuyuki Miyadera
Director : Yoshinari Kamiya
TV Commercial Concept Developed by the Production Staff

As Kuraray is marking the fifth year of this corporate advertising campaign in 2011, in planning the new commercial the production staff focused on promoting Kuraray's positive corporate image as a "unique global chemical manufacturer committed to contributing to society through an array of new and evolving materials." "Mirabakesso" materials are contributing to the world and individual well-being through the development of limitless applications. This commercial uniquely showcases how the Barrier-Type "Mirabakesso"

EVAL

is useful in everyone's daily life and how it will contribute to the future.
2. Behind the Scenes
The commercial was shot at a studio in Tokyo in late July. The set was designed to look like an overseas supermarket, which piqued the interest of the staff. The first scene shows Riko and Kuraray-Chan shopping. The real name of this alpaca, the fourth to play "Kuraray-Chan," in this commercial is Hamu, a male alpaca born on August 6, 2010. This was the first time Hamu and Riko performed together. However, Hamu's acting was perfect throughout the shoot and he remained calm despite being in the presence of various staff members. According his keepers, Hamu is very stubborn and difficult to handle. Despite such warnings, filming went smoothly and the highlight of the latest commercial was the scene where Riko and Kuraray-Chan float into outer space. While shooting this scene, Riko was suspended on a wire in front of a background depicting outer space, to create the appearance of weightlessness. Despite acting in various movies and television dramas, this was her first time doing wirework. Specialists were brought in to set up the wire. When the time came to shoot the scene, although the staff became very nervous and watched the action closely, Riko remained calm and appeared to enjoy the experience. Through her smiles and perfect balance, Riko displayed superb acting skill while being suspended as high as eight meters.
Barrier-Type "Mirabakesso"
EVAL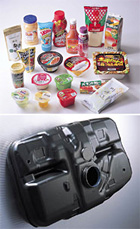 In 1972, Kuraray became the first company in the world to commercialize the EVOH-type resin, EVAL. Featuring the highest level of gas impermeability in plastic, Kuraray boasts the largest global share of this material at 65%. EVAL is widely popular for use in food packaging, owing to its ability to shut out oxygen, thereby protecting contents of a container against deterioration. EVAL is also used in automotive plastic fuel tanks to prevent the leakage of harmful hydrocarbons given off by gasoline. This feature helps to reduce the weight of vehicles. In addition to these wide ranging applications, EVAL is used in vacuum insulation layers for large-sized refrigerators.
Click here to learn more about EVAL's superior barrier-type functions (Japanese only):
3. Profile of Riko Narumi

Riko Narumi was born on August 18, 1992 in Yokohama City, Kanagawa Prefecture. She was cast in her first leading role in the drama "Ruri no Shima" in 2005. She regularly appears in the NTV drama "Don Quixote" and is slated in 2012 to star in NHK's historical "Taiga" drama series, "Tairano Kiyomori," for the first time.
4. About Alpacas

Hamu, the 4th generation Kuraray-Chan, born on August 6, 2010.
Found mainly in South America, alpacas have been domesticated since the time of the ancient Inca Empire. They live on grass and moss and grow to reach approximately 2 meters in height and 50 kg in weight. Though hard to imagine from their cute, unique appearance that stays in one's mind at just one glance, they are very cautious and shy.
5. Purpose of the Ad Campaign
Kuraray was established in 1926 in Kurashiki City, Okayama Prefecture, as a manufacturer of rayon synthetic fiber. After succeeding in the commercialization of Japan's first PVA fiber, KURALON, based on technologies developed domestically, Kuraray has utilized the technology for poval, the material used in creating KURALON, to evolve into a specialty chemical company boasting the world's largest market share for many highly functional materials developed using the Company's own technology. These materials include: Optical-use poval film, which is essential for LCDs used in televisions and PCs; EVAL, a resin distinguished by its excellent gas barrier properties; CLARINO, a type of manmade leather used in school bags and other applications; and SEPTON, an advanced hydrogenated styrenic thermoplastic elastomer with an elasticity similar to rubber
The Company currently aims to achieve sustained growth through the expansion of businesses providing solutions to global issues, such as new energy-related businesses, aqua businesses and environmentally friendly businesses, utilizing technologies accumulated to date.
This corporate advertising campaign revolving around the television commercials has been conducted to support future growth and boost Kuraray's corporate brand value.
The catchphrase, "Mirai ni Bakeru Shinsozai," was chosen for exactly this reason, which is to show Kuraray's focus on the future progress of both people and the organization. We also tried to create an analogy between the potential of new materials and the potential of youth.