Kuraray Trading Co., Ltd. (President: Hiroaki Yoshino; Headquarters: Kita-ku, Osaka) has developed a zip-up packaging bag, the first to utilize impermeable resin with superior aroma-retention qualities for its inner surface material.
Utilizing Kuraray Co., Ltd.'s EVAL gas impermeable resin for the packaging bag's inner surface enables quality to be maintained over prolonged periods. Compared with polyethylene and other standard materials, the new inner surface material more effectively inhibits the absorption of aromas and medicinal elements. The addition of a zipper to the bag makes this item suitable for storing and resealing contents. Kuraray Trading will intensify its marketing activities by developing new applications for the bag in such wide-ranging fields as food, medicines, cosmetics and toiletries.
Product Development Background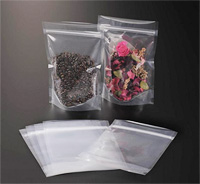 EVAL aroma-retaining, zip-up packaging bags containing coffee beans (left) and potpourri (right).
Aroma-retaining packaging bags, which require impermeability and resealability, generally have an inner layer material such as polyethylene acting as a barrier.
However, polyethylene inner layers absorb aromas and medicinal elements, requiring increased volumes of the content's constituent elements.
Depending on the type of aroma or medicinal element, delamination can arise between the inner and barrier layers making it difficult to open the package.
Up until now there had been no zippers that could be bonded to impermeable materials (barrier sealants). However, owing to the joint development efforts undertaken by Kuraray and Fuji Tokushu Shigyo Co., Ltd. (President: Kimio Sugiyama; Headquarters: Seto City, Aichi Prefecture), it is now possible to produce an aroma-retaining, resealable packaging bag.
Main Characteristics
The EVAL barrier sealant inhibiting the absorption of aromas and medicinal elements prolongs the time that content ingredients can be kept.
Resealable after opening by means of a zipper (excluding cases when the contents are in liquid form)
Depending on the type of aroma or medicinal element, inhibits packaging delamination
Intended Fields and Applications
| Field | Intended Applications |
| --- | --- |
| Food | Spices, food and beverages (coffee beans, tea, etc.) |
| Medicines | Plasters, insect repellant, chlorine disinfectant, pharmaceutical sachets |
| Cosmetics | Serums, milky lotions (for wrapping small quantity packs) |
| Toiletries, etc | Aromatic substances, air fresheners, all types of aroma chemicals |
Reference Material
Comparison of Fragrance and Medicinal Element Absorption between
EVAL

and General-Purpose Materials
Fragrance
Condition
Unit

EVAL

Low-density polyethylene
Polypropylene
d-limonene
(Lemon fragrance)
Liquid phase(Note 1)
ppm
280
1,480
2,040
1-menthol
(Mint fragrance)
Vapor phase(Note 2)
mg/cm²
0.3
53
97
Methyl salicylate
(medicinal element in plasters)
Vapor phase(Note 2)
mg/cm²
2.9
144
161
Measurements in table based on the following Kuraray methods:
Note 1

After immersing the film for two weeks at 20°C in ethanol solution containing 0.5% fragrance, the ethanol solution was analyzed. The amount by which the fragrance dropped by having been absorbed into the film was then measured.

Note 2

40mg of fragrance or medicinal element was placed in a test-tube, the tube then sealed to prevent 20mg of film from coming into contact with the element. Having been left for two weeks at 20°C, the amount of element that had been absorbed into the film was measured.
Cross-Sectional Diagram of
EVAL

Aroma-Retaining Packaging Bag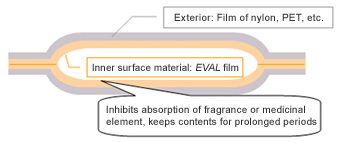 Cross-Sectional Diagram of Delamination in Packaging Material

Company Overviews
Company Name
Kuraray Trading Co., Ltd.
Fuji Tokushu Shigyo Co., Ltd.
Headquarters
Umeda Hankyu Building Office Tower, 8-1, Kakudacho, Kita-ku, Osaka 530-8611, Japan
3-143 Akatsuki-cho, Seto City, Aichi Prefecture 489-0071, Japan
Representative
Representative Director and President: Hiroaki Yoshino
Representative Director and President: Kimio Sugiyama
Capital
¥2,200 million
(Kuraray Co., Ltd. 100%)
¥280 million
Established
October 1961
March 1950
Principal Businesses
Manufacture, processing, sale and import/export of chemicals and chemical products, fibers and textiles, and other products
Manufacture and sale of food packaging
Zipper Purpose-Designed for
EVAL
Grade name: TZ-EV
Manufactured by Fuji Tokushu Shigyo Co., Ltd.
Utilizing a special three-layer, laminated film for the zipper's base material enables it to be bonded to

EVAL

.
EVAL
EVOH resin (ethylene vinyl alcohol copolymer; Kuraray trademark:

EVAL

)
In 1972, Kuraray became the first company in the world to develop and commercialize EVOH resin, which offers a high level of impermeability within plastics

EVAL

has become a common material for food packaging—such as mayonnaise and ketchup bottles, mustard and wasabi (Japanese horseradish) tubes—as it protects contents from spoiling by blocking the permeation of oxygen.

EVAL

realizes weight savings by replacing glass containers and thus contributes to reduced transportation costs.

EVAL

is also used as a material for plastic automobile gasoline tanks due to its ability to prevent permeation of fuel vapors and contribute to vehicle weight reduction and energy conservation.
A broadening range of applications includes wallpaper, pipes for floor heating and vacuum insulation panels.
Three production bases—Japan (Okayama), the United States (Houston) and Belgium (Antwerp)—give Kuraray 65% of the world market share.